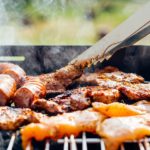 Food is an essential part of life but for much of the world, it has become an art form. With restaurants specializing in dishes that can cost you upwards of $500 for a meal to those that have more than 10 items for under $1, there's also plenty to choose from. No matter what the size or cost of the restaurant, many follow food trends, which sometimes last and sometimes don't.
American Restaurants in St. Louis
St. Louis American Restaurants
 Phone
 Attributes
 Location
 400 Olive
 314-554-7098
 American, Eclectic
 Downtown
 Bissell Mansion
 314-533-9830
 American, Dinner Theater
 Downtown
 Creve Coeur Lakehouse
 314-576-7200
 American
 West County
 Doc's Smokehouse
 618-565-6060

636-671-9111

 BBQ, American

American

 Edwardsville

Jefferson County

 Kenrick's Market & Catering
 314-631-2440
 Deli, Market, Catering
 South County
 Lemmons Restaurant
 314-899-9898
 American, Balkan
 South City
 McArthur's
 Multiple Locations
 Bakery, Deli
 Various
 Pickleman's Gourmet Cafe
 Multiple Locations
  Deli, American, Pizza
 Multiple Locations
 Seamus McDaniel's
 314-645-6337
 American, Irish
 Dogtown
 Sugarfire Smoke House
 Multiple Locations
 American, BBQ, Burgers
 Multiple Locations
Many St. Louis restaurants that serve American style food are heavily influenced by
European flavors
 due to the colonization of the British back in the day. There are way too many signature dishes in American cuisine found at restaurants in St. Louis than could possibly be mentioned but here are a few. Baby back ribs, pulled pork sandwich, macaroni and cheese, lobster club sandwiches, steak, French fries,
hamburgers
,
hot dogs
, pizza, apple pie, buttermilk pancakes, mashed potatoes, cheeseburgers, and pumpkin pie.
American Style Cuisine
One example is
Mediterranean food
, which hit the U.S. and was quickly popularized in restaurants across the U.S. Today, trends vary a bit depending on your state, for example, the east coast is seeing a revival in
artisan pizza
and handmade foods while the west coast is going on a health trend of unprecedented proportions.  However, some trends are so widespread that you can find them almost anywhere. As a result, we will include a few popular trends in American cuisine and dishes served in restaurants.
Explore different genres of American cuisine in St. Louis
<!–
Locally Sourced Food - Locally sourced is one of the biggest trends across the United States, and for good reason. Local foods from Missouri 
support local farmers
, require less travel time and therefore fewer preservatives, and can often be purchased on the morning from farmers markets and local farms. This does greatly affect the types of dishes that can be served, because you can't always get more exotic items (like palm hearts) from a local source.
St. Louis American Restaurants
While not all foods atll
restaurants in St. Louis
come from a local farm, more and more restaurants are focusing on offering dishes made from local ingredients, which vary in style and ingredients based on the time of year. For
fish and seafood
, this often translates to ditching the freezer and going with options purchased the same day, which does noticeably improve the flavor.
Vegetarian/Vegan - Meat free is another quickly growing trend. While the American BBQ isn't likely to shut down anytime soon, a variety of new age vegetarian and vegan restaurants have begun to spring up around the nation. With dishes varying from bean burgers to healthy sprout based sub sandwiches and exotic vegan dishes like Caponata and Biriyani, meat-free dishes are reaching an age of sophistication, on-par with offerings from some of the best restaurants.
Fusion - Whether desert for breakfast, chocolate cheesecake pizza or mixes of Asian and western cuisines like scallop tangerine gastrique, fusion is definitely in. Examples of fusion food are showing up everywhere from fast food chains to fine dining, and for good reason. Fusion foods allow chefs to break away from the norm and create unexpected twists on diner favorites. With options ranging from miso and tamarind marinated steak to cutlet sandwiches made of traditional Cantonese pork. Fusion foods are exciting, new, and allow you to taste a whole new range of flavors. However, they aren't for everyone, especially not if you're fond of your classics and don't like to try anything new. If you do, fusion is a great way to try new things.
Popular Dishes in America
Artisan Breads & Pizza - Artisan breads and pizza are moving into popularity for both comfort STL food and fine dining, with examples popping up everywhere from the health trend to pizza restaurants, bakeries and restaurants. With offerings ranging from unique sandwich breads to high-quality pizza and crusts, you can get your fill of handmade breads and pastry. The trend focuses on using whole grains, seeds, nuts and other healthy ingredients, making a sharp contrast to the cheap sugar and white flour breads that were previously on trend.
Comfort Food - A 2014 study showed that comfort food is rapidly expanding into the realm of fine dining. With adaptions of everything from mac and cheese to chicken fried steak on an upscale level, it's definitely becoming a trend. Popular options include sliders, macaroni and cheese (often with extras added in), pizza, soups, casseroles and much more. With the variety of options, you can choose almost anything you want, but the fine dining versions are considerably more expensive than you might be used to. However, if you want to try your favorite foods with a high end twist, it is the way to go.
There is no shortage of desserts being served in American restaurants across the country. Some of the most popular items include New York cheesecake, cupcakes, jell-o, carrot cake, ice cream, brownies, chocolate chip cookies, chocolate cake, fudge, custard, pudding, rhubarb pie, oatmeal cookies, peanut butter cookies, lemon bars, tarts, molten chocolate lava cakes, apple cake with caramel glaze, ginger cookies, lemon poppy seed muffins, blueberry muffins, walnut pie, red velvet cupcakes, coconut cream pie, ambrosia, angel food cake, apple crisp, parfait, doughnuts, lemon meringue pie, banana splits, Waldorf pudding, strawberry rhubarb pie, funnel cake, Boston cream pie, caramel, cottage pudding, grape pie, persimmon pudding, pound cake, red velvet cake, s'mores and twinkies.
American Cuisine in St. Louis
Trends in American food change frequently, often and without warning. Popular trends in the past have included everything from gelato to spaghetti tacos, and more are sure to come. Today's trends focus on fresh food with a variety of vegetables, mixed cuisines and new takes on old favorites, but that might change quickly. Therefore, the best thing to do if you find a food trend that you like is to try it quickly.
In the case of appetizers, some popular dishes in American cuisine offered at St. Louis restaurants include seared scallops with orange supremes and jalapeno vinaigrette, southern-style devilled eggs, sausage-stuffed cherry pepper poppers, cheese bruschetta with grilled figs and balsamic dressing, whole roasted quail with cured lemons, crispy onion rings, ricotta cheese dumplings, party guacamole, candied bacon strips, clams casino, cheddar cheese puffs, simple roasted artichokes, tomato water cocktails with mozzarella and cherry tomato skewers, shrimp salad with creamy fresh herb dressings, and spicy orange bison meatballs.When it comes to soups, there's no shortage of popular dishes. These include cream of mushroom soup, cream of tomato soup, parsnip soup with corned beef and cabbage, Irish potato soup, creamy cheese chicken soup, Mexican-style shredded chicken soup, chicken ravioli soup, apple and roasted butternut squash soup, black bean corn chowder, cream of pumpkin, French onion soup, asparagus soup, broccoli soup, bacon and potato chowder, roast chicken noodle soup, and spicy tomato crab bisque, among others.
For more info about American Cuisine visit AmericanHeritageCooking.com