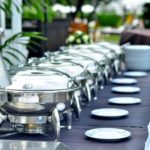 If your circumstances call for a larger space or privacy for your reception, business meeting, celebratory event, or holiday party, consider utilizing the facilities of these banquet halls and St. Louis restaurants with banquet accommodations. Choosing the right St. Louis banquet facility or function hall for your event can completely affect every aspect of your get together so make sure that you consider your options and make the best choice for your event. Here are a couple of important tips to help you find the best function hall for your event.
St Louis Banquet Halls and Facilities
Yemanja Brasil     Bissell Mansion       Jilly's Cafe and Steakhouse
Charlie Gitto's     Grbic       Lorenzo's Trattoria          Guido's Pizzeria & Tapas
Creve Coeur Lakehouse        Haveli Indian Restaurant
What else might you need?
St. Louis Wedding Cake Designer       St. Louis Catering Company
Tips on Choosing the Right St Louis Banquet Facility
Tips on finding the right banquet facility for your Reception:  Hosting a reception or party can be a big deal, but in most cases, it is the location that is the most important.
Check the Location: Is the location nearby to your home? If you plan on taking everyone home afterwards, or plan on drinking, the location might be more important than you think. Check the spot and see if it is easy to locate without a GPS system, easy to spot from the road, and importantly, if a taxi will be willing to show up to take some of your guests home. While you don't need a prime spot downtown, the banquet facility in St. Louis should be reasonably easy to locate and access.
Compare Budget to Amenities: If you're comparing one facility to another, compare their amenities versus the budget. If both are about the same price, check to see which one offers better bathrooms, sinks, kitchen facilities and etc. If the event will decorate for you, they have an even bigger plus on their side.
Check Cleanup Options: Some banquet facilities will clean up after you while others will not. Cleaning up on your own can be time consuming but having the company cleanup for you can be expensive. Check your options, decide which you prefer, and which you would rather go with before you choose.
Is it Big Enough or Too Big? If you have 50 people coming then you don't need a reception hall for 200 people, but if you have 200 people coming, one that is sized for 150 people simply won't do. Check the maximum people that should go into the building and try to choose one that is a few people over your limit, but not too many. Conversely, if you want to throw a dance at y our event, bigger is always better!
Entertainment Options: Does the banquet facility offer music, loudspeakers, DJ booth, cables, microphones, and other entertainment equipment? Check the facilities to see what is offered including whether the event is set up for a live band or not. Checking these options can help you to choose an event that suits your entertainment needs.
Catering Options: Last but not least, check the food options. Will the banquet hall cater food for you or do you have to hire someone else to bring it in? If they do cater food, can you still bring someone else in if you want special food? Check your options so that you know what you can and can't do at the banquet hall, and what they offer you specifically. Food is one of the most important things at your reception so make sure you consider it before booking.