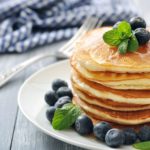 Where do you breakfast, St. Louis? Many consider breakfast to be the most important meal of the day- and we certainly aren't going to argue. In fact, many St. Louisans realized that it can be just as delicious and satisfying no matter what time of day it is. Fortunately, there are many great dining establishments in STL to choose from. Check out the following St. Louis restaurants offering a wide variety of delicious breakfast and brunch options included in continental breakfasts. Some St. Louis restaurants include porridge in their menu.
Breakfast – Brunch St. Louis
Whether you are in the mood for something sweet or something savoury, breakfast has it for you. Popular breakfast food served at STL restaurants include cereal, oatmeal, toast with butter and jam, fruit, eggs, tea, coffee, or fruit juice. Other popular breakfast dishes are muffins, pancakes, sausages, bacon, sweet breads, crumpets, waffles, muesli and oatmeal. When it comes to a continental breakfast, this often consists of cold meat, cheese, and bread or a croissant. Foods that are starchy such as pastries are also typically available.
In St. Louis, it is very common to include eggs in one's breakfast. Scrambled and sunny side up eggs are always available in breakfast menus across the country. Other cooking styles such as poached, hard boiled, and eggs Benedict are also quite common. Of course, we can't forget omelettes. Bacon, sausage links, hash browns are also often served alongside eggs.
Breakfast St. Louis
Cereals such as corn flakes, rice krispies, cheerios, special k, honey bunches of oats, frosted flakes, frosted mini wheats, raisin bran, fruit loops, cinnamon toast crunch, life, lucky charms, and captain crunch are all very popular breakfast cereal brands. French toast, waffles, and pancakes are also often served in restaurants serving breakfast in St Louis. Some restaurants and diners across the U.S. serve breakfast all day.
At restaurants serving breakfast, a typical continental breakfast consists of fresh fruit, croissants, cereal, bagels, muffins, pastries, yogurt, cranberry, orange and grapefruit juice, plus regular and decaffeinated coffee and tea. On the other hand, an American breakfast includes fresh fruit, bagels, croissants, muffins, pastries, scrambled eggs, home fried potatoes, French toast, bacon, cranberry, orange and grapefruit juice, plus coffee and tea.
For the health conscious, smoothies and fruit platters are also usually served for breakfast in many restaurants in St. Louis.
A St. Louis bed and breakfast is a great place to stay for many reasons including the atmosphere, the food, and the cozy appeal. Bed and breakfasts are a combination of morning café and hotel, and you can enjoy the pleasure of both when you stay. The following are just a few of the great reasons to stay at a bed and breakfast in St. Louis.
Bed and Breakfasts near St.Louis
Supporting Local Communities – One of the most notable things about a bed and breakfast is that they are typically 'mom and pop' owned, or owned by small families. This means that by staying at a small bed and breakfast, you are supporting your local community rather than a large chain, which is beneficial for you as well as for the community. Supporting small communities helps to support families rather than large chains, which supports local growth.
A Great Meal – While you won't get any fancy five star dinner, you will get a great meal, and usually home cooked. If you like the comforts of a full breakfast made by someone who cares, a bed and breakfast is likely a good place to go. Most hotels only offer a complimentary continental breakfast which is generally loaded with sugar and far from healthy or nutritious. At a bed and breakfast you can get pancakes, bacon, eggs, and even fruit.
Free Amenities – Forget pulling out your wallet for every little thing, the typical bed and breakfast offers everything from free wifi to complimentary refreshments. Lacking a mini-bar but great on free bottles of water and other refreshments, a STL bed and breakfast is great for your budget. Typically bed and breakfasts thrive on return customers. This means that their aim is to make you feel welcome, and feel like staying again. If you feel like family while you were there, most bed and breakfasts have achieved their goal. 90% of bed and breakfasts also offer free wifi, so you'll benefit from staying connected as well.
Brunch St. Louis
Lower Rates – Despite the many amenities, research shows that the average bed and breakfast has a lower stay per night rate than a typical two or three star hotel. This means that you can enjoy great food, pleasant company, a warm welcome, and genuine people for less than the cost of a stay at a commercial hotel. Considering you're also supporting a local economy, you're definitely winning all the way around.
There are many great reasons to go and stay at a bed and breakfast. From great service when you show up to great food when you wake up, you can enjoy luxurious travel no matter what your budget. Bed and breakfasts are typically affordable, friendly, comfortable, and often offer higher quality bedding and amenities than overpriced hotel chains. If you're still not convinced, consider staying at one for your next trip.. Typically a bed and breakfast is run by just a few people so most of them will get to know you personally during your stay.
MrBreakfast.com | Boasts as the largest database of breakfast recipes and reviews Visit the site
SimplyBreakfast is a blog about all things breakfast with info about breakfast food & cooking Visit the site