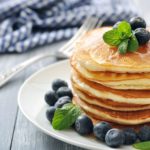 Many consider breakfast to be the most important meal of the day- and we certainly aren't going to argue. In fact, many St Louisans realized that it can be just as delicious and satisfying no matter what time of day it is. Fortunately, there are many great dining establishments in town to choose from. Check out the following St. Louis restaurants offering a wide variety of delicious breakfast and brunch options.  Whether you are in the mood for something sweet or something savoury, breakfast has it for you. Popular breakfast food served at STL restaurants include cereal, oatmeal, toast with butter and jam, fruit, eggs, tea, coffee, or fruit juice. Other popular breakfast dishes are muffins, pancakes, sausages, bacon, sweet breads, crumpets, waffles, muesli and oatmeal. When it comes to a continental breakfast, this often consists of cold meat, cheese, and bread or a croissant. Foods that are starchy such as pastries are also typically included in continental breakfasts. Some even St Louis restaurants include porridge in their menu.
In the St Louis, it is very common to include eggs in one's breakfast. Scrambled and sunny side up eggs are always available in breakfast menus across the country. Other cooking styles such as poached, hard boiled, and eggs Benedict are also quite common. Of course, we can't forget omelettes. Bacon, sausage links, hash browns are also often served alongside eggs.
Breakfast and Brunch in St. Louis
 St. Louis Breakfast & Brunches
 Phone
 Location
  Avenue
 314-727-4141
 Clayton
  The Barn
 314-966-8387
 Crestwood
  Benton Park Cafe
 314-771-7200
 Benton Park
  Bevo Mill
 314-832-6776
 South City
  Bistro 14
 314-875-9890
 Downtown
  Cafe Osage
 314-454-6868
 Central West End
  Chris's Pancakes & Dining
 314-645-2088
 South St. Louis
  City Coffee House & Crepery
 314-862-2489
 Clayton
  Creve Coeur Lakehouse
 314-457-RIBS
 West County
   Egg
 314-202-8244
 South St. Louis
  First Watch
 314-968-9984
 Webster Groves
  Hendel's Restaurant
 314-837-2304
 North County
  The Kitchen Sink
 314-241-5454
 Central West End
  McArthur's Bakery
 Multiple Locations
 Multiple Locations
  Melt
 314-771-6358
 Cherokee Street
  The Mudhouse
 314-776-6599
 Cherokee
  Nadoz Cafe
 314-726-3124
 Clayton
  Pat Connelley Tavern
 314-647-6553
 Dogtown
  Sardella

Shack

 314-773-7755

314-796-5300

 Clayton

Frontenac

  Sgt. Pepper's Cafe
 618-692-1345
 Edwardsville
  Southwest Diner
 314-260-7244
 Maplewoodish
  West End Grill & Pub
 314-531-4607
 Central West End
  Whitebox Eatery
 314-862-2802
 Clayton
  Yolklore
 314-270-8538
 South County
Breakfast Food served at restaurants in St Louis
Cereals such as corn flakes, rice krispies, cheerios, special k, honey bunches of oats, frosted flakes, frosted mini wheats, raisin bran, fruit loops, cinnamon toast crunch, life, lucky charms, and captain crunch are all very popular breakfast cereal brands. French toast, waffles, and pancakes are also often served in restaurants serving breakfast in St Louis. Some restaurants and diners across the U.S. serve breakfast all day.
At restaurants serving breakfast, a typical continental breakfast consists of fresh fruit, croissants, cereal, bagels, muffins, pastries, yogurt, cranberry, orange and grapefruit juice, plus regular and decaffeinated coffee and tea. On the other hand, an American breakfast includes fresh fruit, bagels, croissants, muffins, pastries, scrambled eggs, home fried potatoes, French toast, bacon, cranberry, orange and grapefruit juice, plus coffee and tea.
For the health conscious, smoothies and fruit platters are also usually served for breakfast in many restaurants.
MrBreakfast.com | Boasts as the largest database of breakfast recipes and reviews Visit the site
SimplyBreakfast is a blog about all things breakfast with info about breakfast food & cooking Visit the site