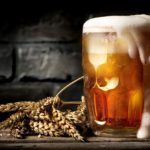 A few years ago, choosing a beer for most folks in St. Louis was as simple as deciding among domestic or foreign and light or dark beer. With the introduction and popularity of micro brew and handcrafted beer  many more options are available. Most people now find it useful to have a basic knowledge of the different types and styles of beer. For example, a heavy stout is not a good match for a lightly flavored baked fish entrée, while it goes well with a beef stew. When dining out at a restaurant in St. Louis, or enjoying a beer from a local St. Louis brewery, an overview of the different types and styles of beer will help make sure you choose the right beer to accompany your food.
St. Louis Breweries
Ale: Ale is a type of beer that tends to have complex flavors and a full body. They are made with yeast that ferments on the top of the mash at temperatures ranging from 60 to 72 degrees Fahrenheit. It is then aged for just a few weeks. Some handcrafted ales are aged in oak barrels and others are aged with oak that had previously been soaked in bourbon, sherry, or scotch. This adds to the complexity of the flavor. Most ale tends to have fruity or flowery undertones. In appearance, ales tend to be dark in color and range from somewhat to very bitter. Some of the styles include Barely Wine, Brown Ale, Amber Ale, Pale Ale, Stout, Belgian Tripple, Kolsch, Porter, and Wheat Ale. Ale tends to go well with beef and pork dishes and foods that are spicy since the ale will not overpower the flavor of the food. Ale also goes well with sharp and pungent cheeses.
Breweries St. Louis
Lager: Lager is the type of beer most Americans think of when they hear the word "beer." Lager tends to have a light color with a crisp and less sweet taste as compared to many styles of ale. Lager is made with yeast that ferments at the bottom of the barrel at temperatures between 45 to 55 degrees Fahrenheit. After fermentation, lager beer is then stored at temperatures ranging from 32 to 45 degrees. This allows the beer to mellow and become clear in appearance. The most common styles of lager include American, Dunkels, Bock, Helles, Pilsner, Oktoberfest, and Vienna. Lager is best paired with lighter entrees with fish, poultry, and most pasta dishes.
Hybrid Beer: Hybrid beers combine the techniques used in making ale and lager, along with additional ingredients, to create unique micro-brewed and handcrafted beers. One example of a hybrid beer is a Steam or California Common beer, which is a dark colored medium-bodied lager fermented at the higher temperatures associated with ale fermentation. Other hybrid beers include fruits, vegetables, herbs, or spices along with the hops so the flavor of the beer has overtones of the added ingredient. Smoked beer is another type of hybrid made with malt that has been smoked prior to fermentation. An example of a smoked beer is the German beer Rachbiers.
Looking for?      St. Louis Bars           Wineries near St. Louis          Wine Bars in St. Louis
Just as with wine, basic knowledge of the type and style of beer will ensure the beverage you serve with your meal complements the food as opposed to overpowering it.
Check out these other Beer & Brewing Resources