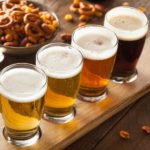 A few years ago, choosing a beer for most people was as simple as deciding among domestic or foreign and light or dark beer. With the introduction and popularity of micro brew and handcrafted beer in St Louis, many more options are available. Most people now find it useful to have a basic knowledge of the different types and styles of beer. For example, a heavy stout is not a good match for a lightly flavored baked fish entrée, while it goes well with a beef stew. When dining out in St Louis, or enjoying a beer from a local brewery, an overview of the different types and styles of beer will help make sure you choose the right beer to accompany your food.
Ale: Ale is a type of beer that tends to have complex flavors and a full body. They are made with yeast that ferments on the top of the mash at temperatures ranging from 60 to 72 degrees Fahrenheit. It is then aged for just a few weeks. Some handcrafted ales are aged in oak barrels and others are aged with oak that had previously been soaked in bourbon, sherry, or scotch. This adds to the complexity of the flavor. Most ale tends to have fruity or flowery undertones. In appearance, ales tend to be dark in color and range from somewhat to very bitter. Some of the styles include Barely Wine, Brown Ale, Amber Ale, Pale Ale, Stout, Belgian Tripple, Kolsch, Porter, and Wheat Ale. Ale tends to go well with beef and pork dishes and foods that are spicy since the ale will not overpower the flavor of the food. Ale also goes well with sharp and pungent cheeses.
Breweries in St. Louis
| | | | |
| --- | --- | --- | --- |
|  Brewery Name |  Phone Number | Brewery Name | Phone Number |
|  2nd Shift Brewery |  573-237-3421 |  4 Hands |  314-436-1559 |
|  402 Main Street Brewing |  618-416-7261 |  Alpha Brewing Co. |  314-621-2337 |
|  Anheuser Busch |  800-Dial-BUD |  Augusta Brewing |  636-482-BEER |
|  Cathedral Square Brewery |  314-803-3605 |  Ferguson Brewing Co. |  314-521-2220 |
|  Friendship Brewing |  636-856-9300 |  Global Brew Tap House |  314-395-4504 |
|  Good News Brewing |  314-608-2903 |  Griesedieke Brothers |  314-966-6061 |
|  Heavy Riff Brewing Co. | |  Kirkwood Station Brewing Co. |  314-966-2739 |
|  Morgan Street Brewery |  314-231-9970 |  O'Fallon Brewery |  636-474-2337 |
|  Perennial Brewing |  314-631-7300 |  Schlafly |  314-241-2337 |
|  Six Mile Bridge Brewing |  314-942-2211 |  Six Row Brewing Co. |  314-531-5600 |
|  Standard Brewing Co. |  314-548-2270 |  Square One |  314-231-ALES |
|  Trailhead Brewing |  636-946-2739 |  Urban Chestnut |  314-222-0143 |
Lager: Lager is the type of beer most Americans think of when they hear the word "beer." Lager tends to have a light color with a crisp and less sweet taste as compared to many styles of ale. Lager is made with yeast that ferments at the bottom of the barrel at temperatures between 45 to 55 degrees Fahrenheit. After fermentation, lager beer is then stored at temperatures ranging from 32 to 45 degrees. This allows the beer to mellow and become clear in appearance. The most common styles of lager include American, Dunkels, Bock, Helles, Pilsner, Oktoberfest, and Vienna. Lager is best paired with lighter entrees with fish, poultry, and most pasta dishes.
Hybrid Beer: Hybrid beers combine the techniques used in making ale and lager, along with additional ingredients, to create unique micro-brewed and handcrafted beers. One example of a hybrid beer is a Steam or California Common beer, which is a dark colored medium-bodied lager fermented at the higher temperatures associated with ale fermentation. Other hybrid beers include fruits, vegetables, herbs, or spices along with the hops so the flavor of the beer has overtones of the added ingredient. Smoked beer is another type of hybrid made with malt that has been smoked prior to fermentation. An example of a smoked beer is the German beer Rachbiers.
Looking for?      St. Louis Bars           Wineries near St. Louis          Wine Bars in St. Louis
Just as with wine, basic knowledge of the type and style of beer will ensure the beverage you serve with your meal complements the food as opposed to overpowering it.
 Craft Breweries in St. Louis
The growing popularity of craft beer in St. Louis continues to boost a favorable revolution from local bars to major baseball stadiums. Its sales have grown 15% in the past year alone and exports have reached a new level. Like never before, the craft beer industry now speaks a share of 12% of total industry with about 4296 breweries. Brewers are always thinking of new bounces and lager flavors to hold clients returning for additional. New items are flying up consistently, with assortments extending from Dogfish Head's Aprihop to Alaskan Brewing Company's Smoked Porter.
Retailers are getting more specialty beer on the racks. Since clients need it, retailers are reacting. Gatza said create lagers are getting into more stores, which is driving interest facilitate. "Since art has begun getting more consideration and (been) what clients are searching for, it's urged wholesalers and retailers to get more out there," he said.
Craft beer is turning out to be more social. Gatza said on the off chance that you strolled into a bar ten years prior, all you would see were the huge name lagers. Presently, it's normal to see those name marks alongside a couple imports and two or three art brews. Furthermore, most specialty bottling works additionally have an eatery or tasting room connected, making it simple to spend a night out there with companions. These on-introduce markets are the place many individuals brew propensities change. "That is the cutting edges of the opposition," Gatza said. "From that point, when individuals discover something they like, will probably get it when they go out to purchase brew at the alcohol store."
In addition, it's getting more compact. Several art brewers are putting to put their lager in jars interestingly, making it less demanding to carry around than packaged blends while climbing or investing energy outside. Places like fairways and tennis regularly boycott bottles, so canned specialty brew is a decent next stride to grow the market. "Some portion of it goes to who the specialty lager consumer is — a great deal of times it's somebody who has a tendency to be an outdoorsy sort, have a tendency to go out with companions more," Gatza said. "There are a few spots where jars work somewhat better."
All in all, exactly what is it about these art lagers that is by all accounts ticking all the privilege boxes right now?
Craft Beer St. Louis
The Craft Beer Boom: Why?
Tastes are evolving. Once upon a time, the normal US male was glad to swallow his most loved brew, and didn't generally try excessively. In any case, nowadays, consumers (both male and female) are much additionally recognizing and get a kick out of the chance to keep things fluctuated. They're frequently watchful for new flavors, and fascinating, innovative ways to deal with their refreshments.
Advancement. The path in which organizations make brew has additionally changed fundamentally. To stay aware of market request, bottling works are consistently testing, battling to convey new items to the general population and to remain a stage in front of the pack.
Picture. Drinking has dependably been seen as a social movement. These days, it's likewise a type of societal position. Many individuals no longer need to be connected with well-known brands. They would rather be seen drinking something somewhat more 'selective'.
It has turned out to be more versatile. Craft brewers have gotten on to the present pattern, and now offer their refreshments in jars, empowering purchasers to take their beverages on climbs, picnics and celebrations.
A best aspect regarding the specialty brew industry is that it opens up the playing field a touch of, permitting nearly anybody to make their own unmistakable beverages. All it takes is somewhat introductory speculation, some imagination and a longing to make a stamp in a quickly developing commercial center.
Check out these other Beer & Brewing Resources