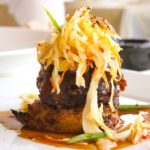 Clayton, Missouri is a suburb of St. Louis located in the inner ring area near Forest Park. It is an art aficionado's paradise with numerous St. Louis art galleries and museums to explore along with specialty boutiques and antiques stores. The city of Clayton offers numerous hotels in the area with affordable rates along with wonderful restaurant and dining options ranging from casual outdoor cafes to elegant fine dining establishments with gourmet cuisine.
Clayton Restaurants

Wasabi Sushi Bar  Japanese cuisine in a unique, traditional atmosphere at Wasabi, we bring to you the authentic tastes of Japan using quality ingredients, artistic presentation and a professional attention to detail.

Pickleman's  Offering a wide variety of Toasted Sandwiches, Pizzas, Soups, Salads and Desserts. Delivering and Catering to business meetings, school events, sports teams, fundraisers, and everything in between.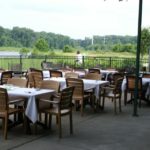 Creve Coeur Lakehouse features outstanding American cuisine in a fantastic atmosphere often featuring live music .Check out our website to view our current delicious menu offerings, upcoming events, live music, and the gorgeous views from our spectacular setting.
One of the municipality's main tourist attractions is their Art Fair which draws more than 15,000 people per year. The fair has been rated as the best in the region, and is held each September annually. The Taste of Clayton food event in St. Louis is held yearly, as is the Gallery Nights reception, where small cities around the suburb open their doors for night receptions and parties. Parties in the Park is another festival, as is The Big Read literary festival which is held each autumn. Particular notes to look out for include seasonal farmers markets, cocktail parties held in spring and summer, and a wide variety of events hosted by the city, and its many businesses.
Clayton is not home to any great historical buildings, but it is a thriving small economy full of bustling shops and businesses, offering tourists the ability to take in the STL lifestyle from a more peaceful perspective. While not as exciting as a visit to the arch or the perhaps the zoo, the city is worth a visit to anyone who wants to explore the city in depth, and truly see what local culture is all about. Whether visiting for the art fair, or at a time of year when nothing is happening, most tourists can enjoy the city to its fullest, although some of the eateries and cafes can be on the pricey side for budgeting visitors.
5 Star Burgers      314-720-4350       Burgers in Clayton
801 Chophouse     314-875-9900       Steaks in Clayton
801 Fish                  314-875-9636       Seafood in Clayton
Akar   314-553-9914    Asian in Clayton
Avenue    314-727-4141   American Cuisine in Clayton
Balducci's   314-576-5024   Italian Food in Clayton
Bao   314-899-9089     Asian Cuisine in Clayton
Barcelona   314-863-9909   Spanish Food in Clayton
Bar Les Freres   314-725-8880   French Food in Clayton
Barrio  314-725-0322   Clayton Italian Restaurant
Blue Sky Tower Grill     314-726-2583   Clayton Bar and Grill
Cafe Manhattan   314-863-4703    American Cuisine in Clayton
Cafe Napoli   314-863-5731   Italian Cafe in Clayton
Carl's Deli   314-721-2393    Deli in Clayton
City Coffee House   314-862-2489    Coffee House and Creperie in Clayton
Herbie's     314-769-9595   French Food in Clayton
House of Wong   314-726-6291    Chinese Food in Clayton
Katie's Pizza   314-727-8585    Clayton Pizza
Louie's Wine Dive   314-875-9373   Wine Bar in Clayton
Oceano Bistro  314-721-9400   Seafood in Clayton
New Day Gluten Free Cafe   314-833-5180   Gluten Free Bakery
Northwest Coffee   314-371-4600  Coffee Roaster in Clayton
Pastaria   314-862-6603   Pasta in Clayton
Posh Nosh Deli   314-400-7693    Deli in Clayton
Sardella   314-773-7755  Italian Cusine in Clayton
Seedz Cafe    314-725-7333  Clayton Vegetarian
Tani Sushi Bistro   314-727-8264   Sushi in Clayton
Texas De Brazil   314-352-8800 Clayton Brazilian Restaurant
Vincent Van Doughnut  314-899-9500  Donuts in Clayton
Wicked Greenz   314-727-2772  Lunch in Clayton
The Wine Merchant   314-863-6282   Wine Shop in Clayton
Winslows Home  314-725-7559   American Cuisine in Clayton
Clayton Dining
Clayton is also famous for having some of the best art galleries in St. Louis, which draw a steady stream of tourists throughout the year for purchases and viewing. A night visit at the right time of the year can offer a rewarding gallery reception to art lovers, affording the ability to see new artists work, or to check out one of the area's many famous artists.
Some of the many events include:
St. Louis Art Fair, sponsored by the non-profit organization Cultural Festivals, is an annual event that highlights the work of artists in all mediums. Additionally, this art fair has live performances and interactive art exhibits. The fair is located at 7818 Forsyth Boulevard and takes place in September.
Taste of Clayton, takes place at Shaw Park during the summer months. This food festival goes into the evening hours with live music and fireworks after 7pm.
Gallery Nights are special receptions and exhibit openings at the numerous art galleries in Clayton.
Restaurants in Clayton, MO
Parties in the Park, a spring and summer tradition, take place the second Wednesday of the month from May through September from 5:00 to 8:30 pm. These street parties feature live music, STL Food, cocktails, and a chance to relax with family and friends under the stars. The location of the parties is Meramec Avenue in the block between Forsyth Boulevard and Maryland.
Search Nearby St. Louis Locations
Restaurants in University City