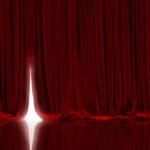 What to expect when attending a Dinner Theater?  A dinner theater is defined as an event where a meal is included with the price of the ticket. Usually combining dinner and entertainment, Dinner Theater is often called 'dinner and a show' and is a popular date activity as well as a leisure or pleasure activity. Dinner Theaters can be presented in a variety of styles including music, musical, movie, and comedy. Depending on the prominence of the entertainment, the meal will either be more prominent, or secondary to the entertainment. For example, many upscale St. Louis restaurants provide live show or classical bands to accompany the diners. In this case, the entertainment is secondary to the meal.
 St. Louis Dinner Theater 
Bissell Mansion Restaurant and Dinner Theater
Types of Dinner Theater: Dinner theater involves a variety of different styles but will usually be divided into either a professional or a non-professional show. Professional shows usually include expensive tickets with a high quality act such as a circus, fashion show, high profile comedian or etc. Non-professional acts are usually cheaper and will host someone who is not known. While the non-professional dinner theater will usually be high quality, the main focus is usually either on the meal, or the event is hosted for some type of charity.
These kind of events that take place and local dinner theaters or restaurants in St. Louis can involve comedy, interaction with guests, plays, theater, music, musicals and more. Currently some of the most popular types of Dinner Theater are whodunit type 'Murder Mystery' staged with little props in a Clue style game. In some locations, showboat and tour dinner cruises are also very popular.
Murder Mystery Dinner
Dress Codes: Depending on the actual show, the dress code will vary but will normally be either semi-formal to formal. Men can usually get away with wearing a blazer and dress shoes with either jeans or dress pants while women should usually wear a dress that is either semi-formal or formal. Usually the more expensive the ticket, the more formal the event, many charity events also require formal dress which is important to keep in mind. On the other hand, people attending comedy dinners can usually wear whatever they want.
What to Expect: Anyone who is planning to attend a dinner theater can expect a full meal, drinks that may or may not be included, and a show that will depend on the nature of the tickets. Most of the time, dinner theaters are put together for a charity or special event, however; there are a few dinner theater restaurant/theaters that actually perform dinner theater every night. These are literally guaranteed to showcase high quality performances and good food. For the most part, the quality of the show will depend on the event administrator who brought everything together. In some cases, this will mean okay food and an okay event, in other cases, when done correctly; the administrator will have brought in top quality chefs and performers for the event.