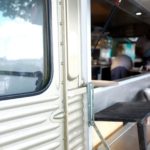 From coast to coast, cities around the nation are implementing food trucks as party of each city's growing lunch options. St. Louis Food trucks are growing in popularity and have been popping up all over the STL metro area. The demand for mobile food is a high one, especially with workers in out of the way locations that have no real access to freshly prepared food. Food trucks in St. Louis offer anyone everywhere the access to freshly prepared food. While not everyone is going to appreciate it, the majority of people definitely will. STL Food trucks allow more food options to be available in any given area, and often work as great advertisement for whatever local St Louis restaurant or café they are working from.
Food Trucks St Louis
Brazil Express     Bombay Food Junkies        2 Girls 4 Wheels      Steak Louie     Yo! Salsa
Unlike with old fashioned ice cream trucks, most of the food trucks are working with café's and restaurants or even chefs to bring their food to a location. Other food trucks work for chains of retailers meaning that the trucks work to advertise for the business they work for while boosting sales. Most city officials think that food trucks are all around good for business because they're a great boost to the economy that provides services to formerly under-privileged neighborhoods and work areas.
In the case of small, single truck and family food truck businesses, the trucks are required to be licensed, which means the quality of the food is regulated, a big step forward from un-licensed food trucks in the past. Now, if you buy something form the truck, it is much more likely to be of good quality because the truck has a license to drive down that particular route, meaning if they mess up; they lose customers.
St. Louis Food Trucks
While there are obviously hamburger and hotdog food trucks out there, many of the popular stl restaurant trucks are selling home-style cooking. Many people, especially in the working industry have no real access to this kind of food on a daily basis, which is just one of the reasons that these food trucks are growing in popularity.
Easy access to mobile, home-cooked food is enough to attract almost anyone's attention, and if they start talking about good food, anyone on the route is bound to try it out at one point or another. The business has quickly become wildly successful and is expected to spread through nearly every city in the United States. Most food trucks working for St Louis restaurants are currently catering to the mobile needs of the population, while keeping to their restaurant standards and quality for the food, meaning if you buy food from a truck that says it is from your favorite restaurant in St Louis, chances are it will taste exactly the same in both places.