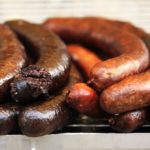 German cuisine has encountered many changes throughout the years and it has also been influenced by surrounding regions such as Bavaria and Swabia. Even Austria shares some of Germany's most popular dishes. Classic Italian dishes such as spaghetti and pizza have also found their way into Germany's staple foods. However, there are many dishes that remain to be signature in Germany. Today, these can be seen in many German restaurants in St. Louis and around the world. What are some of these dishes?
 German Food St. Louis
| | | | |
| --- | --- | --- | --- |
| St. Louis German Restaurants |  Phone |  Attributes |  Location |
|  Das Bevo |  314-832-2251 |  German, Breakfast |  South St Louis |
|  Dreamland Palace |  618-939-9922 |  German |  Illinois |
|  Feasting Fox |  314-352-3200 |  German |  South St. Louis |
|  Grbic Restaurant |  314-772-3100 |  Bosnian, European |  South St. Louis |
|  Iron Barley |  314-351-4500 |  American, German |  Jefferson County |
|  Lemmons Restaurant |  314-899-9898 |  Balkan, American |  South St. Louis |
|  Schneithorst's |  314-993-4100 |  German |  West County |
|  Urban Chestnut |  314-222-0143 |  Brewery, German |  The Grove |
German cuisine is famous for its heavy use of meat in its dishes. These include pork, beef and poultry. These are usually pot-roasted. German cuisine also stands out because of its many popular sausages and cold cuts. Fish such as trout, carp, pike, European perch, herring, sardines, tuna, salmon and mackerel are also used in many German dishes. When it comes to vegetables, it is not uncommon to see carrots, cabbage, turnips, broccoli, peas, turnips, beans, and spinach in many German dishes. Onions and asparagus are also popular. Aside from potatoes, noodles are also commonly served at St Louis German restaurants.
German Restaurants in St. Louis
When it comes to bread, rye-wheat, toast bread, rye, roasted onions in light wheat-rye bread, whole-grain, pumpkin seeds in dark rye bread, white bread, multi-grain, sunflower seeds in dark rye bread and rye are some of the most popular. Bread rolls are also a favourite among many. These are usually filled with butter, margarine, cheese, preserves, meat, fish, honey, jam or Nutella.
Some of the most popular dishes served at German restaurants in STL include fried potatoes with diced bacon and onions, bratwurst, grilled chicken marinated with pepper and other spices (hendl), marinated rabbit, potato salad, cooked meatballs, German-style cabbage rolls, peppered beef stew, bacon and onion roulade wrapped in sliced beef, beef pot roast, sauerkraut, grilled pig, pancakes with fried bacon, stollen, roasted goose, and German dumplings.
When it comes to beverages, German cuisine is not lacking in the least. Beer is arguably the most famous German drink, particularly pale lager pilsner and wheat beer. Wine, malt, coffee, tea, and soft drinks mixed with sparkling water are popular as well.
Popular desserts served in German restaurants include cream puffs, rum balls, black forest cherry cake, Viennese apple strudel, grits pudding, Danube waves cake, marble cake, fresh fruit cake, torn pancakes, fruit rum pot, marzipan, donuts, gingerbread, pretzels, tree cake, butter cake, bee sting cake, cheesecake, red fruit pudding, ice cream, and fruit salad. German restaurants often offer a variety of cakes and tarts in their menu. These are often prepared with fresh fruit like apples, cherries, plums and strawberries. German donuts often contain jam, cream or other types of filling.Check out GermanFoodGuide.com, a great directory of German restaurants, markets, bakeries, and recipes.
How To Make A German Schnitzel
Fry the Schnitzel in enough butter or lard. During cooking, press the Schnitzel lightly with the back of a spoon. An original Wiener Schnitzel is served with lemon slices that is squeezed over the meat. If liked anchovies and capers can also be served. 
Ingredients
4 veal fillets (approx each 200g)
salt and pepper
2 tbsp flour
3 eggs
150g breadbrumbs
butter, lard or cooking oil
Flatten the meat with a rolling pin or meat hammer. Season with salt and pepper and then coat in flour. Coat in beaten egg and then coat in breadcrumbs. Heat oil in a pan and then fry the Schnitzel on both sides until brown and the meat is cooked through. Approx. 4 mins on both sides. Serve with German potato salad, fried potatoes or Spaetzle. Once cooked serve straight away. Do not keep warm in aluminium foil as the coating will go all soft and soggy.