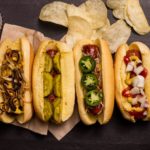 The hot dog is a traditional American cuisine at it's finest. Some Germans may claim that they invented the hot dog but we will stick with the story that it was invented right here in St. Louis. Besides, hot dogs are synonymous with baseball and we have way better baseball in St. Louis than they do in Germany. One of the best things about hot dogs is that there are so many different ways to enjoy them. Pick your sausage, choose your garnishes (mustard, relish, hot sauce, sriracha, onions, mayo, cheese, chili & more), grab your buns and it's ready to go.
Hot Dogs in St. Louis
Carl's Drive In 314-961-9652 Hot Dogs in Central County
Classic Red Hots 314-878-4687 Hot Dogs in West County
Crown Candy Kitchen 314-621-9650 North County Hot Dogs
Steve's Hot Dogs 314-762-9899 Hot Dogs on The Hill
Wacked Out Weiner 314-376-4010 Hot Dogs in University City
Woofie's 314-426-6291 Hot Dogs in North County
Some of the Most Popular Ways People Eat Their Hot Dogs in St. Louis
St Louis food lovers fond of hot dogs then you might enjoy learning how other people eat them! For example, you probably know the classic ketchup and mustard but did you know that in Europe hot dogs are usually served with dried onions? Probably not! Let's get started on a complete list of favorite toppings for hot dogs.
Ketchup and Relish – A sweeter twist on the classic ketchup and mustard hot dog, ketchup and relish is almost equally as popular. Relish is usually made of chopped gherkin pickles. Sometimes chopped pepper is added to this dish to add a little zing to an otherwise very sweet hot dog.
St. Louis Hot Dogs
Sauerkraut and Mustard – Despite sounding German, this tangy hot dog is purely American in origin. With mounds of sauerkraut, a lot of French style mustard, and a soft bun, this hot dog definitely isn't for everyone. However, lovers of the sour and tangy definitely find this one a must. This is actually the original New York hot dog!
Chili Sauce – Meat on meat is a classic American trend, and a chili dog is quite American. The Chili dog features a classic bun smothered in chili sauce, and often cheese! While usually only available at a carnival, this hot dog usually has to be eaten with a knife and fork because it's just that messy!
Chicago Style – In Chicago you can get a hot dog with tomato, onions, celery salt, mustard, cucumber and pickle! This dog has a bit more veg than most people are used to, but most will find that it is surprisingly good.
European Style – If you're in Europe then chances are you can get a hot dog with dried fried breaded onions, ketchup, mustard, and sometimes mayonnaise. Sometimes the ketchup is left out altogether. A more American version of this hotdog is the Vivaldi which has onion rings on top!
Bruschetta – Did you know that you can skip the processed food and top your hot dog with a paste made from grilled peppers, tomatoes, onions, and garlic? Bruschetta makes a great alternative to using ketchup or mustard, and is quite popular among those who watch their health.
Bacon Dog – Another popular American treat among STL food aficinados is to wrap your hotdog in a slice of bacon when cooking! What you get is a crispy hot dog with an extra burst of flavor. Consider topping with onions and ketchup, or just the ketchup
Best Hot Dogs in St. Louis
BBQ – If you're not a fan of ketchup or mustard, then consider the southern style BBQ dog. This hot dog has BBQ sauce on the top. You can also add onions, and some people even go so far as to add their Cole slaw to the hot dog. If you're not brave enough to try the second part, consider giving the BBQ sauce a whirl anyway. Check out BBQ restaurants in St. Louis
Po-Boy – Fans of real Creole will love these tangy hot dogs. Topped with remoulade and Creole mustard, lettuce, and okra, these hot dogs are definitely something out of Louisiana. While not really that well known outside of the state, they are incredibly popular, and delicious! Cajun Restaurants in St. Louis
There are hundreds of things you can put on a hot dog, all you really have to do is experiment on your own, or buy the local hot dog special when travelling.