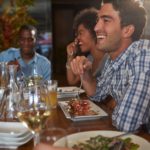 Latin American food is indisputably one of the most unique and flavourful cuisines in the world. What with the number of immigrants from Latin American countries making their home in America, it is no wonder Latin American restaurants have been multiplying like rabbits throughout the country.  First off, it is very common to find dishes in Latin American menus that make use of maize. These include tortillas, tamales and puspusas. Salsas and other condiments such as guacamole, pico de gallo and chimichurri are also considered maize-based. The food served in different restaurants in St. Louis can differ depending on the specific country; city or region the restaurant is basing or patterning its food after. All in all the food is characterized by its flavour and richness.
 Latin American Food and Restaurants in St. Louis
STL Latin America Restaurants
 Phone
 Attributes
 Location
 Boogaloo
 314-645-4803
 Cuban
 Maplewood
 Big John's Cuban Cafe
 618-251-8515
 Cuban
 Wood River, IL
 Brasilia
 314-932-1034
 Brasilian
 South Grand
 Cantina Laredo
 314-725-2447
 Latin American
 Clayton
 Cha Cha Cow
 314-833-6655
 Latin American
 The Hill
 Fritanga
 314-664-7777
 Nicaraguan
 South St Louis
 Mango
 314-621-9993
 Peruvian
 Downtown
 Maya Cafe
 314-781-4774
 Latin American
 Maplewood
 Mi Caribe
 314-696-8719
  Cuban, Dominican
 CWE
 Nixta
 314-889-9000
 Mexican, Latin American
 Tower Grove
 Sanctuaria
 314-535-9700
 Latin American
 The Grove
 Texas de Brasil

Tuscano's

 314-352-8800

636-724-4499

 Brazilian

Brazilan

 Clayton
 Yemanja Brasil
 314-771-7457
 Brazilian
 St. Louis City
It is also typical to find an American twist in some restaurants.Some typical food items that can be found on a Latin American menu include Brazilian Feijoada (a stew of beans, beef and pork), asado (barbecue), cornbread, menudo, ropa vieja (black beans with yellow rice and yucca), rice, gallo pinto, white cheese, picadillos, yucca frita (deep fried cassava root served with curtido and pork rinds with fried baby sardines), panes rellenos, and panes con pavo (turkey sandwiches).
Food Served at Latin American Restaurants in St. Louis
Other dishes commonly served in Latin American restaurants include fried fish, carne asada, baleadas, fiambre, conch soup, bean soup, mondongo soup, seafood soups, beef soups, plaintains, nacatamal, indio Viejo, pinolillo, chica, gallopinto, moqueca, and caldillo de congrio.
Bandeja paisa is a popular Latin American dish. It was popularized in Columbia and consists of beans, rice, ground eat, chicharron, arepa, chorizo and fried egg. It is usually served alongside avocado, tomato and sauces.
Other Latin American restaurants also serve less common dishes like hornado, fanesca, empanadas, ceviche, fritada, guatita, papas con quero, sopa paraguaya, chupe de camarones, anticuchos, lomo saltado, picante de cuy, Andean pachamanca, olluco con charqui and anticuchos. Pan de almidon, encebollado, humitas, llapingachos and churrasco can also be found in some Latin American restaurants.
Beverages served in Latin American restaurants include mate, cacao, water, pischo, atole, chicha de jora and horchata.
For dessert, items such as dulce de leche, tropical fruits, flan, rice pudding, alfajor, tres leches cake and Teja are very commonly served in Latin American restaurants.
Peruvian food is one of the most diverse on the planet due to Peru's long span of climates, conditions and sub sequential food sources. Peru is also the homeland of the potato, one of the world's most popular staple foods, and the country eats a lot of them. If you're planning on going to a Peruvian restaurant in St Louis, you will likely have many dishes choose from, especially if you are eating in Peru! But choosing a dish doesn't have to be too hard, these are the most popular Peruvian food and entrees you can find in St Louis restaurants.
Popular Dishes in Peruvian Cuisine
Cebiche- Cebiche is one of the most common Peruvian dishes and is usually served as an entrée. The dish consists of small pieces of fish that have been marinated and cooked in lemon, with hot peppers, onions, seaweed, lettuce leaves, corn and yam or potatoes. You can also get the dish with shellfish, where it is called Cebiche Mixto. You can ask for this dish minus the pepper if you aren't used to spicy foods.
Causa – Another traditional Peruvian entrée, Causa is made with boiled potatoes, cheese, lettuce leaves, corn and olives. The dish is served cold and usually garnished with olives, corn and a hard-boiled egg, which can make it a small meal in itself.
Carapulcra of Lima – This is a variety of Carapulcra that is native to Lima, Peru. The dish consists of dried potatoes, pork and chicken, garlic, cloves, chili peppers, toasted peanuts, sweet wine, basil and onion and served with rice. This dish is usually considered a must if you are going to Peru, so even if you aren't going to Lima, you should try ordering the Carapulcra.
Papa a la Huancaina – Sliced potatoes, spicy cheese sauce, lettuce, boiled egg and olives make up the main of this hearty Peruvian dish. This one is usually very small, and can be ordered as a side dish.
Lomo Saltado – One of Peru's most popular dinner dishes, the Lomo Saltado is a mouthwatering plate of steak and onions served in traditional Peru style. Strips of steak sautéed in soy sauce, vinegar, garlic, chili peppers, onions and tomatoes and then served over rice with a large serving of fries. You can also order a salad with it.
Ceviche – If you're a seafood lover, you should definitely try Ceviche. The dish can be purchased in nearly any Peru restaurant and consists of bite size chunks of raw sea bass marinated in lemon, chili peppers and onions. You can usually get it with boiled potatoes and corn on the side.
Aji de Gallina – A tourist favorite, this dish consists of shredded chicken served in a milk sauce of walnuts, cheese, garlic and chili peppers. The dish is usually served with rice and a boiled egg, and garnished with a few black olives.
There are hundreds of delicious Peruvian dishes that you can try, just remember that many of them are spicy. Common meats include tripe, liver and heart along with the more traditional meats, so you may want to ask what is in the dish before you order.
Brazilian Restaurants in St Louis
Brazilian cuisine is quite similar to other Latin American cuisines. However, it remains distinct in its own unique way. Brazilian cuisine can be considered a melting pot of various cultures and cuisines. Brazilian restaurants vary in that some choose to serve their food buffet-style while others go for the traditional ala-carte. Ingredients such as cassava, guarana and Brazilian nuts are some of the most frequently used in Brazilian dishes. Some popular fruits used in cooking are acai, hog plum, cupuacu, pineapple, mango, passionfruit, papaya, orange and guava. Walk into a Brazilian restaurant and you would be hard-pressed not to find them serving rice, beans, fish, beef and pork.
Brazilian cuisine was largely influenced by European immigrants. These include German, Italian, Polish, Spanish and Portuguese immigrants. These said immigrants were responsible for introducing wine, dairy products, and leafy vegetables to Brazilian dishes. It is not uncommon to encounter lasagne, yakisoba and gnocchi as well in some Brazilian restaurants.
Popular foods served at St Louis Brazilian restaurants include caruru, feijoada, tutu de feijao, moqueca capixaba, chourico, salgadinhos, cheese buns, cuscus branco, pasteis, cachaca and coxinha. Polenta is often substituted for rice in many dishes. Kibe or quibe, whether baked, raw or fried, is often served in many Brazilian restaurants.
A popular Middle Eastern dish that was recently introduced to Brazilian cuisine is esfiha. Today it is found in numerous Brazilian restaurants. It is a pie or cake that is filled with either beef, seasoned vegetables, cheese curd or mutton. Empada, pinhao, risotto, mortadella sandwiches, pizza, corn bread, angu, and arroz com pequi are also other popular dishes served at Brazilian restaurants. To nobody's surprise, seafood is pretty popular in Brazilian cuisine given the country's proximity to the sea. Vatapa, moqueca de peixe, and cururu de camarao are dishes that are commonly found in Brazilian restaurants.
When it comes to desserts, Brazilian cuisine is not lacking in any way. Popular Brazilian cakes include pao de mel, bolo de banana, bolo de rolo, bolo de laranja, bolo de cenoura, bolo de quieijo, bolo prestigio, bola de mandioca, bola de fuba, bola de maracuja, bola de milho, and bola de maracauja. Acai ne tigela, quindim, papo-de-anjo, brigadeiro, pamonha, biscoitos de maizena, maria-mole, beijinho, doce de banana, cajuzinho, rapadura, cocada, pudim de leite, pudim de pao, manjar, doce de leite, rice pudding, canjica, romeu e julieta, lemon pie, pacoca, and pudim de leite.
Food Served at Nicaraguan Restaurants in St. Louis
Nicaraguan cuisine is very diverse. It can be described as a combination of indigenous Nicaraguan cuisine and Spanish or Creole food. This can be attributed to the arrival of the Spaniards in Nicaragua. Nicaraguan cuisine heavily makes use of local fruits, corn, seafood and coconut and you will find many of these dishes available on the menu of Nicaraguan restaurants in St Louis. The Pacific coast tends to use more of fruit and corn while the Caribbean coast prefers to incorporate seafood and coconut into their dishes. The generous use of corn in preparing food is not uncommon in Latin American countries. Moreover, Nicaraguans not only use it in their food, it is also sometimes incorporated into their beverages.
Some common dishes served at Nicaraguan restaurants include arroz a la valenciana, ensalada de aguacate, nacatamak, , arroz aguado, filete en tocineta, pechuga con queso, arroz con pescado, gallina rellena, pechuga desmenuzada, arroz con pollo, gallo pinto, pescozon, , berenjenas rellenas, guacamol nica, pescada a la tipitapa, brochetas, guiso de chayote, posta en caldillo, carne asada, guiso de pipian, punta de salon henchida, carne desmenuzada, higado asado, relampago, tacos al pastor, carne pinchada, higado en caldillo, repocheta, tajadas con ensalada, carne sofrita, higado frito, rondon, tamales, costillas asadas de cerdo, indio Viejo, salpicon, tamal relleno, cusuco frito y desmenuzado, lengua, , tostones, chancho abodabo, lengua fingida, ubre, chancho frito, lomo de venadovaho, chicharron con chimichurri, lomo entomatado y encebollado, venada asado, churrasco con chimmichurri, lomo relleno, and vigoron.
Popular soup dishes include but are not limited to the following: sopa de pastora, sopa de pato, sopa de pescado, sopa de punche, sopa de queso, sopa de punche, sopa de verduras, sopa siete mares, sopa de albondigas, sopa de cola, sopa de frijoles, sopa de gallina con albondigas, and sopa de mondongo.
These are some desserts commonly served in Nicaraguan restaurants: almendras en miel, cajeta de zapoyol, gofio, nancites cocidos, almibar o curbaza, cosa de horno, gofio con anis, nancites en conserva, arroz en leche, coyol en miel, grosellas en miel, perrerreque, atol, crispeta, hicacos en miel, pinionate, atol pujugua, cuznaca, jalea de guayaba, pio quinto, atolillo, chiricaya, jalea de mango, raspados, ayote en miel, dulce de leche, jalea de patriotas, requeson, bienmesabe, dulce de limon, jocotes cocidos, sopa borracha, botellitas de miel, dulce de nancite, leche burra, suspiros, bruhas, dulce de naranja, maduro asado, toronja en miel, bunuelos de yuca o platano, dulce de pina, maduro en Gloria, torta de leche, cajeta de ajonjoli, dulce de papaya, maduro horneado, tres leches cake, cajeta de coco, dulce de toronja, mamonas en miel, turron, cajeta de coyol, dulce de remolacha con zanahoria, mazapan, melcocha, enchiclados, cajeta de pina, espumillas, and motas de atol.
Some of the most popular Nicaraguan dishes served in restaurants include fruit shakes, cacao, limonada cimarrona, and granadilla.
NicaraguaFood.org | Features information about Nicaraguan food and history. Visit the site
St Louis Cuban Restaurants
Cuban cuisine is one of the most interesting cuisines in the world. Heavily influenced by the cuisines of Spain, the Caribbean and Africa, Cuban cuisine relies heavily on the use of spices and flavours. The unique and interesting flavour of Cuban cuisine is similar that of its neighbours, the Dominican Republic and Puerto Rico. A slight Chinese influence can be noticed in the Havana area. The reason that Cuban cuisine bears resemblance to Spanish cuisine is because of the Spaniards who once lived there.
Seafood is undeniably part and parcel of many Cuban recipes and this is a result of the country's proximity to the ocean. Cuba is a tropical country and this accounts for the use of many fruits and root vegetables in their meals and dishes. Rice and beans are very much a part of Cuban cuisine. Pork, beef, yucca, malanga, potato, bananas, corn, tomato, lettuce, avocado, cucumber, carrots, cabbage and radish are ingredients that are typically seen in many dishes served at Cuban restaurants in Saint Louis.
Meat is usually served with light sauce and tamales, stews and soups are also common. Cuban sandwiches are very popular in some restaurants and its ingredients include buttered Cuban bread, sliced roast pork, Serrano ham, Swiss cheese, dill pickles, yellow mustard, Genoa salami, tomatoes, and lettuce. Medianoche, pan con lechon, Elena Ruz, bread with guayaba paste and cream cheese, Cuban bread with thinly cut Spanish chorizo sausages, and fritas are also some of the most popular sandwiches in STL Cuban restaurants.
Aji relleno, yuca frita, arroz a la chorrera, arroz Amarillo, arroz con leche, arroz con maiz, arroz con pollo, arroz congri, batido, bocaditos, bistec de Puerco, bistec empanizado, bistec encebollado, boliche, bonito frito, bunuelo, butifarras, caldosa, camarones, yucca con mojo, viandas, vaca frita, turrones, tres leches cake, tostones rellenos, camarones al ajillo, carne azada en cazuela, carne con papas, chiviricos, croqueta, dulce de coco con queso, dulce de leche, dulce de Naranja, tortilla de patatas, tasajo, tamale, sopa de platano, ropa vieja, pure de malanga, Puerco asado, pudin de pasas, pudin de pan, potaje, pollo frito con mojo, platillo moros y cristianos, platano maduro frito, picadillo, pastelito, papitas fritas, papa rellena, pan con lechon, pan con bistec, panatela borracha, empanada, enchilado de cangrejo, enchilada de caso, enchilada de langosta, ensalada de frijoles, ensalada de frutas tropicales, ensalada mixta, filete de pescado grille, harina de maiz seco, and many more are some of the most common items you will find in St Louis Cuban restaurants.