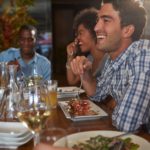 Latin American food is indisputably one of the most unique and flavourful cuisines in the world. What with the number of immigrants from Latin American countries making their home in America, it is no wonder Latin American restaurants have been multiplying like rabbits throughout the country.  First off, it is very common to find dishes in Latin American menus that make use of maize. These include tortillas, tamales and puspusas. Salsas and other condiments such as guacamole, pico de gallo and chimichurri are also considered maize-based. The food served in different restaurants in St. Louis can differ depending on the specific country; city or region the restaurant is basing or patterning its food after. All in all the food is characterized by its flavour and richness.
 Latin American Restaurants St. Louis
STL Latin America Restaurants
 Phone
 Attributes
 Location
 Boogaloo
 314-645-4803
 Cuban
 Maplewood
 Brasilia
 314-932-1034
 Brasilian
 South Grand
 Cantina Laredo
 314-725-2447
 Latin American
 Clayton
 Cha Cha Cow
 314-833-6655
 Latin American
 The Hill
 Fritanga
 314-664-7777
 Nicaraguan
 South St Louis
 Mango
 314-621-9993
 Peruvian
 Downtown
 Maya Cafe
 314-781-4774
 Latin American
 Maplewood
 Nixta
 314-889-9000
 Mexican, Latin American
 Tower Grove
 Sanctuaria
 314-535-9700
 Latin American
 The Grove
 Texas de Brasil
 314-352-8800

636-724-4499

 Brazilian

Brazilan

 Clayton

St. Charles

 Yemanja Brasil
 314-771-7457
 Brazilian
 St. Louis City
It is also typical to find an American twist in some restaurants.Some typical food items that can be found on a Latin American menu include 
Brazilian Feijoada
 (a stew of beans, beef and pork), asado (
barbecue
), cornbread, menudo, ropa vieja (black beans with yellow rice and yucca), rice, gallo pinto, white cheese, picadillos, yucca frita (deep fried cassava root served with curtido and pork rinds with fried baby sardines), panes rellenos, and panes con pavo (turkey sandwiches).
Food Served at Latin American Restaurants in St. Louis
Other dishes commonly served in Latin American restaurants include fried fish, carne asada, baleadas, fiambre, conch soup, bean soup, mondongo soup, seafood soups, beef soups, plaintains, nacatamal, indio Viejo, pinolillo, chica, gallopinto, moqueca, and caldillo de congrio.
Bandeja paisa is a popular Latin American dish. It was popularized in Columbia and consists of beans, rice, ground eat, chicharron, arepa, chorizo and fried egg. It is usually served alongside avocado, tomato and sauces.
Other Latin American restaurants also serve less common dishes like hornado, fanesca, empanadas, ceviche, fritada, guatita, papas con quero, sopa paraguaya, chupe de camarones, anticuchos, lomo saltado, picante de cuy, Andean pachamanca, olluco con charqui and anticuchos. Pan de almidon, encebollado, humitas, llapingachos and churrasco can also be found in some Latin American restaurants.
Beverages served in Latin American restaurants include mate, cacao, water, pischo, atole, chicha de jora and horchata.
For dessert, items such as dulce de leche, tropical fruits, flan, rice pudding, alfajor, tres leches cake and Teja are very commonly served in Latin American restaurants.