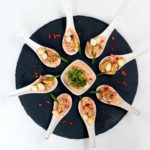 Peruvian food is one of the most diverse on the planet due to Peru's long span of climates, conditions and sub sequential food sources. Peru is also the homeland of the potato, one of the world's most popular staple foods, and the country eats a lot of them. If you're planning on going to a Peruvian restaurant in St Louis, you will likely have many dishes choose from, especially if you are eating in Peru! But choosing a dish doesn't have to be too hard, these are the most popular Peruvian food and entrees you can find in St Louis restaurants.
Popular Dishes in Peruvian Cuisine
Cebiche- Cebiche is one of the most common Peruvian dishes and is usually served as an entrée. The dish consists of small pieces of fish that have been marinated and cooked in lemon, with hot peppers, onions, seaweed, lettuce leaves, corn and yam or potatoes. You can also get the dish with shellfish, where it is called Cebiche Mixto. You can ask for this dish minus the pepper if you aren't used to spicy foods.
Causa – Another traditional Peruvian entrée, Causa is made with boiled potatoes, cheese, lettuce leaves, corn and olives. The dish is served cold and usually garnished with olives, corn and a hard-boiled egg, which can make it a small meal in itself.
| | | | |
| --- | --- | --- | --- |
| St. Louis Latin America Restaurants | Phone | Attributes | Location |
|  Cantina Laredo | 314-725-2447 | Latin American |  Clayton |
|  Fritanga | 314-664-7777 | Nicaraguan | South St Louis |
|  Mango | 314-621-9993 | Peruvian | Downtown |
|  Maya Cafe | 314-781-4774 | Latin American |  Maplewood |
|  Sanctuaria | 314-535-9700 | Latin American | The Grove |
|  Tuscano's | 636-724-4499 | Brazilan |  St. Charles |
|   |   |   | |
Carapulcra of Lima – This is a variety of Carapulcra that is native to Lima, Peru. The dish consists of dried potatoes, pork and chicken, garlic, cloves, chili peppers, toasted peanuts, sweet wine, basil and onion and served with rice. This dish is usually considered a must if you are going to Peru, so even if you aren't going to Lima, you should try ordering the Carapulcra.
Papa a la Huancaina – Sliced potatoes, spicy cheese sauce, lettuce, boiled egg and olives make up the main of this hearty Peruvian dish. This one is usually very small, and can be ordered as a side dish.
Peruvian Restaurant St. Louis
Lomo Saltado – One of Peru's most popular dinner dishes, the Lomo Saltado is a mouthwatering plate of steak and onions served in traditional Peru style. Strips of steak sautéed in soy sauce, vinegar, garlic, chili peppers, onions and tomatoes and then served over rice with a large serving of fries. You can also order a salad with it.
Ceviche – If you're a St. Louis seafood lover, you should definitely try Ceviche. The dish can be purchased in nearly any Peru restaurant and consists of bite size chunks of raw sea bass marinated in lemon, chili peppers and onions. You can usually get it with boiled potatoes and corn on the side.
Aji de Gallina – A tourist favorite, this dish consists of shredded chicken served in a milk sauce of walnuts, cheese, garlic and chili peppers. The dish is usually served with rice and a boiled egg, and garnished with a few black olives.
There are hundreds of delicious Peruvian dishes that you can try, just remember that many of them are spicy. Common meats include tripe, liver and heart along with the more traditional meats, so you may want to ask what is in the dish before you order.
If you like Peruvian Food, you might really like
Seafood Restaurants Latin American Food Mediterranean Food