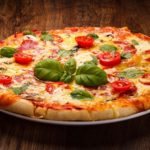 Pizza is considered a favourite food by many people around the world – and St. Louis is no exception. There is something about its delectable taste, incomparable flavour, and alluring appearance that just call out to many a diner. It is no wonder many consider it the ultimate comfort food. Whether you are a fan and wish to refresh yourself on the 411 on pizza or have just recently been hooked, become familiar with the different types and styles of pizza served at local STL restaurants and pizzerias. Pizza is a type of food that is baked in the oven. The most common ingredients used in baking pizza include tomato sauce, cheese, and a variety of different toppings such as pepperoni, mushrooms, green peppers, onions, ham, ground beef, garlic, pineapples and many more.
Pizza in St. Louis



There are several types of pizza that exist. Pizza types vary depending on their origin and the culture in which they are made. For instance, mozzarella cheese and tomatoes are the basic ingredients used in making genuine Neapolitan pizza. Authentic Neapolitan pizza should also contain wheat flour, salt, brewer's yeast and water. Genuine Neapolitan pizza dough should also be kneaded by hand or with the use of a low-speed mixer. There are three types of Neapolitan pizza: pizza marinara, pizza Margherita and pizza Margherita extra. These three variants differ in small ways but all are made with extra virgin olive oil and tomatoes.
St. Louis Pizzerias
 The second type of pizza is Lazio style pizza. Lazio style pizza comes in two different styles: pizza rustica and pizza al taglio. Unlike ordinary pizza, these are baked in rectangular-shaped baking pans. Electric or wood-fired ovens are usually used in the process and the base of Lazio style pizza is usually thicker and softer than Neapolitan pizza. The use of wood-fired ovens is what gives this type of pizza its distinct flavour and texture. Other types of Lazio style pizza are pizza romana (tomatoes, mozzarella, anchovies, oregano, oil), pizza vienesse (tomato, mozzarella, 
German sausage
, oregano, oil), pizza capricciosa (mozzarella, tomatoes, mushrooms, artichokes, cooked ham, olives, oil) pizza Quattro formaggi (tomatoes, mozzarella, stracchino, fontina, gorgonzola), pizza Bianca (olive oil, salt, rosemary sprigs), and pizza alla casalinga (mozzarella, tomatoes, garlic, olive oil).
In America, pizza has taken on many unique styles and added different toppings. For instance, Chicago has what is known as deep-dish pizza and New York has come up with their signature style of thin crust pizza.