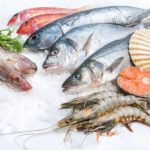 STL isn't exactly near an ocean, but you can still find fresh seafood at many restaurants in the St. Louis area.  Check out these local restaurants by visiting their sites and seeing what type of Seafood dishes are currently featured on their menu.  Going out to restaurant to eat seafood can be more than a little intimidating. There are usually a lot of seafood dishes to choose from, and no one wants the nasty surprise of ordering something with a head, or worse, raw – not unless that is what they wanted
Seafood in St. Louis
St. Louis Seafood
 Phone
 Attributes
 Location
400 Olive
 314-554-7098
 American, Seafood
 Downtown
 801 Fish
 314-875-9636
 Seafood
 Clayton
Bissell Mansion
 314-533-9830
 American, Dinner Theater
 Downtown
Bistro 14
 314-231-5007
 American, Seafood
 Downtown
 Bob's Seafood
 314-993-4844

636-329-1349

 Seafood

Seafood

 Central County

O'Fallon, MO

Haveli Indian
 314-423-7300
 Indian, Seafood
 Northwest County
 Hokkaido
 314-270-9401
 Asian Seafood, Steaks
 South County
Iron Barley
 636-671-9911
 American, Seafood
 Jefferson County
Lemmons Restaurant
 314-899-9898

314-997-3108

314-621-9993

 Balkan, American

Asian Seafood

Peruvian, Latin American

 South St. Louis

University City

Downtown

 Oceano
 314-721-9400
 Seafood
 Clayton
Grbic Restaurant
 314-772-3100
 European, Bosnian
 South St. Louis
Peacemaker
 314-772-8858
Seafood
 Benton Park
Wasabi
Multiple Locations
Japanese, Seafood
 Multiple Locations
Seafood at restaurants in St Louis.
Coconut Shrimp: This is an iconic Chinese dish that has made its way past traditional Chinese cuisine and into the hearts of restaurant lovers around the globe. While it isn't the most well-known dish on the planet, it is quite delicious. There are two versions. The first is the most popular and is fried in a mixture of breadcrumbs and coconut flakes and usually eaten with sweet chili sauce. The second is served in its very own creamy coconut sauce. Both dishes are quite good, although both work better as an appetizer rather than a main course.
Shrimp Alfredo: This popular Italian dish is a variation of the ever popular Alfredo. As could be expected, there are multiple incarnations of this dish. Usually you will get it with the traditional broad fettucine, but it can also be served with angel hair pasta or other thin noodle. Shrimp Alfredo consists of a creamy Alfredo sauce, shrimp and noodles. The dish will usually be served alongside garlic bread and a salad but that does depend on the restaurant.
Cioppini: Cioppini is at the heart of American fish cuisine. The dish originated in San Francisco and consists of a hearty broth combined with whatever fish was brought in that day. Usually there are multiple types of fish in the pot and the name actually means 'chip in' because the Italian fishermen who created it would ask fishermen going by to chip in to the pot and share the meal.
St. Louis Seafood
Clam Bake: Another great North American classic, you're most likely to find this essential fish dish on the east coast. Clam bake, like Cioppini, consists of multiple different types of fish and seafood and is surprisingly most likely not going to include clam. If you're looking for a hearty dish packed with corn, potatoes and seafood, this is definitely for you.
Fried Fish:A classic everywhere in the world, fried fish can be found in nearly any restaurant that sells fish. Depending on where you are at you can get Dutch kibbeling, fried catfish, fried seabass and several more types of fish. Usually the fish you get will depend on the region. You can also rely on a more upscale restaurant having a whole fried fish or large fillets while a smaller one will usually serve it in smaller chunks.
Garlic Butter Mussels: Probably one of the most popular Italian seafood dishes around, mussels in garlic butter is a surprisingly simple and yet delicious appetizer. This dish usually consists of mussels cooked in fragrant herbs, garlic and butter and then mixed with a small amount of cream before being served hot. These mussels are absolutely delicious when cooked to perfection, but like all shellfish, will be more than a little chewy if overcooked.