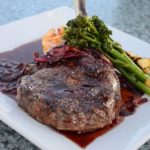 Almost everyone in St. Louis loves a good steak. But given the wide selection of steaks out there, how does one choose the type that is exactly right for them? With this article we hope to provide you with useful information on the various types of steaks served at STL restaurants as well as how they differ from one another in taste, texture and other details.
Let's start with filet mignon. Filet mignon is considered by many meat experts to be the leanest and most tender beef cut. It is taken from a muscle of the cow that is never used and this is why its tenderness is unparalleled. Essentially, filet mignon melts in your mouth. It's a pleasure to marinate and grilling time is short. It is important not to overcook filet mignon as this will strip the steak of its sumptuous juices.
Steakhouse St. Louis
St. Louis Steaks
 Phone
 Attributes
 Location
 400 Olive
 314-554-7098
 American
 Downtown
 801 Chophouse
 314-875-9900
 Steaks
 Clayton
 Al's Steakhouse
 314-421-6399

618-656-0281

 Steaks

American

 St. Louis

Edwardsville

 Annie Gunn's
 636-532-7684

314-535-6033

 American

Steaks

 West County

Downtown

 Bissell Mansion
 314-533-9830
 American – Dinner Theater
 Downtown
 Bistro 14
 314-231-5007
 American
 Downtown
 Carmine's Steakhouse
 314-241-1631
 Steakhouse
 Downtown
 Charcoal House
 314-968-4842
 Steakhouse
 Rock Hill
 Citizen Kane's
 314-965-9005
 American
 Kirkwood
 Clayton's Restaurant
 636-272-7474
 American
 St. Charles
 Doc's Smokehouse
 618-656-6060

314-567-7610

 BBQ, Steaks, Burgers

Steaks

 Edwardsville

West County

 Gamlin Whiskey House
 314-875-9500
 American
 Central West End
 Iron Barley
 314-351-4500
 American, Smoked Meats
 South St.Louis
 Jilly's Cafe & Steakhouse
 636-449-4500
 American, Steaks
 Jefferson County
 Kenrick's Meats & Catering
 314-631-2440
 Meats, Sandwiches, Catering
 South County
 Kobe Steakhouse of Japan
 314-469-3900
 Japanese, Steakhouse
 Maryland Heights
 Kreis Restaurant
 314-993-0735
 American
 Frontenac
 Kyoto Steakhouse of Japan
 636-685-0018
 Japanese
 St. Peters
 Mansion Steakhouse
 618-624-0619
 Steaks
 O'Fallon, Illinois
 Morton's The Steakhouse
 314-725-4008
 Steaks
 Clayton
 Oishi Steak & Sushi
 636-530-1198
 Steak, Sushi
 West County
 Olive & Oak
 314-736-1370
 American
 Webster Groves
 Ruth's Chris Steakhouse
 314-783-9900
 Steaks
 Clayton
 Sam's Steakhouse
 314-849-3033
 Steaks
 South County
 Schneithorst's
 314-993-4100
 German, Steaks
 West County
 Stoney River
 636-536-1301
 Steaks
 Chesterfield
 Tenderloin Room
 314-361-0900
 Steaks
 Central West End
 Tucker's Place
 Multiple
 Steaks & Seafood
 Multiple Locations
 Twisted Tree Steakhouse
 314-394-3366
 Steaks & American
 West County
Steaks St. Louis
What are some of the most popular steaks served at local steakhouses in St. Louis? Boneless strip steak is another type of steak that is exceptionally tender. Its size makes it easy to work with and it is a breeze to marinate. The abundant flavour of boneless strip steak also makes it a favourite among many Americans. It is important to choose a doneness that is rare to medium for this cut as not to strip it of moisture. Boneless strip streak is very affordable and is a great choice for everyday meals.
Let's go to two of the most popular steaks found at restaurants in St Louis —the T-Bone and the porterhouse. The T-Bone is a combination of the filet mignon and the boneless strip steak.  Throw in more parts of filet and what you have is a porterhouse. The main difference between these two types of steak is the size of the tenderloin. It is important to note that during the grilling process, the strip will take more time to cook than the tenderloin.
Rib-eye steak is not as lean as other types of steak but it is more marbled. This causes it to have more flavour and juice. As the name denotes, it is cut from the beef rib of cattle. Many steak connoisseurs of St. Louis food claim that rib-eye is their steak of choice. Rib-eye works great on the grill as it can be grilled to medium without losing its flavour and juiciness. Save this type of steak for a special occasion.
Lastly, the sirloin is the king of bold flavours and one of the most popular entrees served at STL restaurants and steak houses. Cattle tend to use this muscle more than any other muscle in their body. Because of this, it is less tender than other steaks. However, top sirloin is still an excellent choice. Prices are moderate but worth every cent as flavour and tenderness are highly retained by his cut. Sirloin can be grilled from rare to medium. Allow this to sit in the marinade for a couple of hours in order to increase flavor.
How to have your steak cooked in St. Louis
Chefs are trained considerably on steak food preparation. However, one can go to a restaurant and still have an upsetting experience. Steak is genuinely one of the most convenient and also customizable meat options available. There is a wide variety of cut types and degrees to opt for. A restaurant can serve specially made steaks to gratify every meat-lover's palette. Although different cuts of steak provide you with several tastes and textures, the done ness level of the steak decides the flavor, texture, warmth, as well as color of the beef-steak.
Many people are often uncertain on what level of steak doneness suits their preference for color and texture. It occurs on a regular basis at the restaurant – someone orders an average rare steak, then cuts into it and observes that it is redder than they had expected. In other cases, the steak may appear to meet your preferences until you get to the center, which might be rarer than your flavor. If you have ever experienced this, it may well point out that you are not positively ordering your steak the manner that you would want it to appear on your meal.
Steak is sort of a statement food. It holds associations of power, preference, and desire, and also for a good reason. But there is however much more to steak than a stereotype and a price tag. Moreover, treating every steak the same would be a silly disservice. Hence next time you consider it wise to eat a steak in a restaurant, halt before you merely order for a grilled steak. There are other options available.
STL Steaks
Pan Fry: Pan frying a steak is not different from grilling unless of course, it doesn't require a barbeque grill. Just like the grill, you would want to make sure your pan is hot.
Butter Steak: The butter steak is a modification of the pan fry approach, just simply with more butter which means more deliciousness
Reverse Sear: If perhaps your primary goal is evenly cooked steaks that will be thick and juicy, in that case, this approach is worth the time and investment. A tried-and-true procedure for preparing your preferred lump of cow is to simply toss it right onto the hottest part of the grill. A general variation on this technique for thicker steaks kicks in the same way, on a very hot grill, nonetheless quickly moves to an oven for an even more gentle finish
Steak Tartare: Many people see the steak tar tare as totally odd; this is so because of the lack of heat during preparation. It is also unique considering the idea that the steak is chopped up before serving. However if all the exquisite diners in France had to gnaw on whole raw steak, the food perhaps wouldn't have been quite so productive.
In conclusion, trying steak cooked differently can indeed open your mind to other delicious ways of taking your steak in a restaurant; one cannot fully know how these various methods of cooking steak could go, not until you are tired of going through or getting a particular taste from steak.