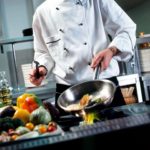 The South Grand community of St Louis is a trendy bustling district of local restaurants, bars, shops. For good reason, the area is known for it's wide variety of authentic ethnic Asian restaurants as well as fine selection more familiar cuisines. South Grand is made up of several thriving neighborhoods like Tower Grove South, Shaw, Tower Grove East, and Compton Heights. The area offers a number of attractions such as Tower Grove Park, 
Missouri Botanical Garden
, 
Compton Park Water Tower
. With a few exceptions, most of the restaurants and bars in the area are located 
on South Grand or the Morgan Ford strip.
St. Louis Restaurants Near South Grand 
 South Grand – Tower Grove
 Phone
 Attributes
 Eat Sandwiches
 314-797-8188
 Sandwiches
 Baida
 314-932-7950
 Moroccan
 Basil Spice
 314-776-1530
 Thai
 Black Thorn
 314-776-0534
 Pizza
 Brick Yard Tavern
 314-771-9300
 Bar, Burgers
 Cafe Mochi
 314-773-5000
 Vietnamese & Chinese
 Cafe Natasha
 314-771-3411
 Middle Eastern
 City Diner

Crafted

 314-772-6100

314-865-3345

 Breakfast

Burgers

 Feasting Fox
 314-352-2500
 German
 Friendly's
 314-771-2040
 Sports Bar
 Jay International Foods
 314-772-2552
  International Grocery
 King & I
 314-771-7777
 Thai
 London Tea Room
 314-241-6556
  Tea Room
 Lulu's Local Eatery
 314-300-8215
 Vegetarian
 Mekong
 314-773-3100
 Vietnamese
 Pho Grand
 314-664-7435
 Vietnamese
 Pizza Head
 314-266-5400
 Pizza, Vegan
 The Purple Martin
 314-396-6511
 Fox Park, American
 Riley's Pub
 314-664-7474
 Pizza
 Shaved Duck
 314-776-1407
 BBQ
 Sheesh Restaurant

Stella Blues

 314-833-4321

314-762-0144

 Turkish

American

 Treehouse
 314-696-2100
 Vegetarian
 The Vine
 314-776-0991
 Middle Eastern
The Tower Grove and Shaw Neighborhood of St. Louis has a multi-faceted history based around three areas including Shaw, Tower Grove South, and Tower Grove East. Because each area has its own unique history, the neighborhood is diverse, and reflects the same cultural background as much of the rest of St. Louis. With a long history dating back to the 1800s and cultural pieces like the Missouri Botanical Gardens and Tower Grove Park. The following includes a history of each neighborhood.
A History of the Shaw Neighborhood:The Shaw Neighborhood is named after Henry Shaw who moved to the St. Louis area in the early 1800s. Shaw built his house and acquired a great deal of land. His garden, which would later become the Missouri Botanical Garden. Henry Shaw was in part responsible for the resulting neighborhood, as well as the Tower Grove Park, as he donated much of the land to the city in 1868. Houses were slowly built up throughout the late 19th century, and by the end of the 20th century, the neighborhood was similar to how we know it today.
South Grand Restaurants
The Shaw Neighborhood is now a Historic District, and is one of the most well-preserved and oldest neighborhoods in St. Louis. With highly diverse architecture stemming from different cultures, well cared for gardens and buildings, and a history that dates back to the very early days of St. Louis, the neighborhood is an excellent stop for those who want to see the history of the city, as well as the Missouri Botanical Gardens or who wants to visit the historic Tower Grove Park.
A History of Tower Grove East:Tower Grove East borders the east entrance to Tower Grove Park. While today, the area is known for cultural diversity and a mostly German ethnicity, it was originally French. Named La Petite Prairie (The Little Prarie), the area was settled in around 1700s as farmland, with a communal commons and a small town. By the 1800s, this system fell out of use, and the land was parceled and sold, mostly to German immigrants, many of whom were moving from Germany to be nearer to family who had already moved to the nearby Compton Heights area, and to escape the German civil war. By the end of the 1850s, the area primarily belonged to German dairy farmers, who became quite prosperous, leading to their building many of the large and grand homes that are a signature of the neighborhood.
Today, Tower Grove East is a thriving culturally diverse area with immediate access to parks including the Tower Grove Park and the Missouri Botanical Gardens, access to the Grand Boulevard shopping area in Tower Grove South and a popular selection of nightlife, restaurants and theaters.
A History of Tower Grove South:Tower Grove South, formerly Oak Hill is the newest of the Tower Grove/Shaw neighborhoods, as it was built up following the introduction of streetcar lines into the area. Because most of the neighborhood was built following the 19th century, it was mostly built up around people moving from more populated areas of the city into the suburban zone.
Today, Tower Grove South is in a period of revitalization and reinvestment, with new shops, stores and commercial areas being built and refurbished. With substantial growth in the form of new shops and reversal in the decline of houses and residential areas, the neighborhood is on an upswing.
Tower Grove Park:Tower Grove Park provides a centerpiece for the Tower Grove/Shaw neighborhoods. The park hosts multiple events including farmers markets and fairs as well as concerts, weddings and a wide variety of festivals. When nothing is going on, the area is home to artwork including statuary and Victorian era pavilions which were built based on themes from different countries, and a biodiversity not seen anywhere else in St. Louis.
Like much of St. Louis, the Tower Grove/Shaw neighborhood has a cultural diversity and history worth learning. While the people who built the area vary quite a bit in just a small space, this allows for a wide level of diversity, with pockets of different ethnicities and cultures all found in a very small space. In the Tower Grove/Shaw area, this leads to a surprising and beautiful array of homes with influence from Germanic, French and Irish architecture. The result is a beautiful area that is not only one of a kind, but important as a historic part of the St. Louis area.