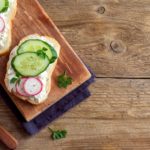 You don't have to be a vegetarian to enjoy a delicious meal that dosen't include meat. You will often hear a carnivore declare such claims as, "I didn't realize this could be so good" or "I never knew a vegetarian meal had so much flavor." Many St. Louis restaurants offer a fine selection of vegetarian entrees on their menu and they are certainly worth checking out. Some people prefer this cuisine and diet and it doesn't just mean that they are a poor hunter. Don't worry. Many of these restaurants still offer meaty entrees as well.
St. Louis Vegetarian Food
Soup & Salad: While many people find it boring, every restaurant has a salad. Ordering the soup and salad, or just the salad is a great way to go vegetarian at an otherwise non-vegetarian friendly restaurant. Many restaurants offer a variety of salads and are willing to hold any meat options on the top. Soups usually include meat, but many restaurants also make options like pea soup, cucumber soup, and even French onion soup with no meat at all. Soup usually comes with a bread or garlic bread, so the meal is just as filling. Best of all, it's also cheaper.
| | | | |
| --- | --- | --- | --- |
| Everest Cafe |  314-531-4800 |  Nepal, Vegetarian |  The Grove |
|  Frida's |  314-727-6500 |  Vegetarian, Deli |  University City |
|  Govinda's |  314-535-8085 |  Vegetarian |  Central West End |
| Guido's |  314-771-4900 |  Spanish, Pizza |  The Hill |
| Haveli Indian Restaurant |  314-863-9909 |  Indian |  Northwest County |
|  Layla |  314-553-9252 |  Middle Eastern |  The Grove |
|  Lorenzo's Trattoria |  314-773-2223 |  Italian |  The Hill |
|  Lulu's Local Eatery |  314-300-8215 |  Vegetarian |  South Grand |
|  Pieology |  Multiple Locations |  Vegetarian Pizza |  Multiple Locations |
|  Pizza Head |  314-266-5400 |   Pizza, Vegan |  South Grand |
|  Pura Vegan |  314-931-5144 |  Vegetarian |  Central West End |
|  Rise Coffee House |  314-405-8171 |  Vegetarian, Coffee |  The Grove |
|  Seedz Cafe |  314-725-7333 |  Vegetarian |  Clayton |
|  Treehouse |  314-696-2100 |  Vegetarian | South Grand |
| Wasabi |  Multiple Locations |  Japanese |  Multiple Locations |
| | | | |
With more and more people deciding to become vegetarians for any of the numerous reasons to make the switch, many St. Louis restaurants are beginning to offer a selection of vegetarian and vegan food to keep their clients happy. Unfortunately, those dishes are few and far between compared to the 'standard' dishes, but many vegetarians can still find at least a few options to suit their needs. The options listed here are full vegetarian  but most restaurants offer a great deal more options with fish for those who eat it.
Vegan Food St. Louis
Ratatouille: While not every St. Louis restaurant will offer this classic French dish, many do. Ratatouille is a vegetable dish that can be baked or stir fried depending on the chef. With fresh ingredients like eggplant, tomatoes, zucchini, garlic, and sometimes carrots, it's a hard temptation to resist. Ratatouille is often served with a side of noodles, and in some cases served with meat. Pay attention to the menu and simply ask the chef to make it vegan if they have included meat.      http://en.wikipedia.org/wiki/Ratatouille
ChickPea Tagine: Once again, not every restaurant will offer this dish, but it is popular enough that many do. Tagine is essentially a soup that has been cooked together with a variety of vegetables and simmered in a broth. Unfortunately the exact ingredients can greatly vary according to the chef so you'll just have to try any local options to find out what it's like.
Vegetable Sandwich: Did you know that more and more restaurants are starting to serve vegetable sandwiches? If all veg isn't your thing, many also have tofu sandwiches with fried or grilled tofu. You can also find a range of cucumber and cheese, avocado, bean sprout, and even bell pepper sandwiches at many restaurants.
St. Louis Vegan and Vegetarian Food
Bean Burritos: Simple, but delicious, the bean burrito is a vastly underrated vegetarian staple. Bean Burritos can be purchased literally anywhere Mexican food can be found, and often for an extremely low price. Adding cheese is usually somewhere around the 50 cent mark, and many restaurants offer you the choice of corn or flour tortillas. Some also offer bean tacos, or a variety of options such as black bean or brown bean burritos.
Depending on the restaurant there might be any of a number of options available. Different types of vegetarian pasta are among the most popular options, but there are plenty of different types ranging from restaurant to restaurant. Some restaurants might offer exotics like Falafel, while others will stick with traditional mushroom and bean or vegetable dishes.
Vegetarian meal was undoubtedly not genuinely associated with fine dining, but today a new age of stylish, modern restaurants providing meat-free excellent meals are banishing the sector's past reputation. The range of top vegetarian restaurants is growing fast, regardless of the economic downturn, prompted by culinary advancement by top chefs, interest in healthy and balanced lifestyles as well as an increasing notion that carnivorous delicacies are bad for the natural environment. A good number of food enthusiasts are the growing number of meat-eaters who are prepared on taking less flesh – so-called "meat-reducers"– not to mention the estimated five million Britons that are entirely or partly vegetarian.
Vegan Cuisine St. Louis
Vegan food eateries or dining places are now common in a lot more locales all across the United States as well as other nations around the world. Hence vegetarians are incredibly pleased to have more options. The increasing number of restaurants that offers such meals is merely a section of the living food movement that is bringing some innovative ideas in taste, and this has been seen to be flourishing by providing a complete diet plan for vegans, and it is seen to add color to the American restaurant goers.
People that live the natural vegetarian or real vegan lifestyle are usually comfortable with the tastes and textures of a natural food diet. However, a good number of average consumers are uninitiated to this feature until they stumble upon a local food restaurant and sit to try taking these meals. This progression began just a couple of years ago, and it is getting on and even expanding remarkably. Although a lot of people could immediately visualize a mini, homey, hole-in-the-wall restaurant, this is what comes to the mind of many when they first hear of such restaurant. As to the rising popularity and others from all walks of life and also pulling in celebrity enthusiasts, it wouldn't be shocking to find a vegan food restaurant at the neighborhood with a premier package, a trendy eatery featuring the haute delicacies of vegan foods.
More often, these restaurants that feature vegan foods are sprouting up as well as relishing improved awareness in strip malls, in beautiful regions, in renovated buildings in up and coming spots, along with great thoroughfares, as well as in premier unique locations. As a matter of fact, in most cases from the outer surface or exterior, such a food restaurant might seem to be just another appealing cafe or diner that is meant to make customers feel comfortable and welcomed.
In conclusion, people who choose to embark on living the vegan lifestyle consume fresh fruits and uncooked veggies, and also nuts, seeds, grains, legumes, and sprouts. A significant number of people claim they feel better, more vibrant and enjoy better health and wellbeing in general by following such a food diet plan and many even state that health problem and disorder has been corrected. Given that most of these rewards are avidly being desired by many, just like the baby boomer generation, the chances that more vegan food restaurant will be seen in greater numbers in the coming years is very high, since people are beginning to understand the importance.