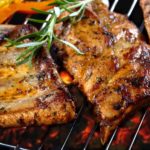 BBQ restaurants in St Louis are always fun to visit as the atmosphere is often very casual, relaxed and playful. The best part is, the food is spectacular. Barbecue restaurants vary in terms of the type of food that is served. Some restaurants like to serve Mediterranean or Oriental cuisine, while others are heavily influenced by Asian or American cuisine. No matter what type of cuisine a restaurant goes with, all have this in common: the manner in which the food is cooked. BBQ style cooking involves using wood, an open flame, and charcoal. More modern restaurants may use electric grills. Some barbecue restaurants have gotten so creative with their methods that they sometimes prepare and serve the food outdoors.
One primary reason why St Louis restaurants are so popular in the United States is because of the sauces that are served with the food items. Many restaurants spring up on the left and the right just to compete with other restaurants. Many times the sauce served alongside the food is the 'secret weapon'. Many of the best St Louis restaurants offer their own unique flavours and characteristics. For instance, some serve mayonnaise with their slaw while others prefer to leave it out.
BBQ Restaurants in St. Louis
St. Louis BBQ Restaurants
 Phone
 Location
 At Nesby's
 314-270-3888
 South County
 Beast Craft BBQ
 618-257-9000
 Belleville
 BBQ Saloon
 618-257-9000
 Central West End
 Big Woody's
 636-724-4227
 St. Charles
 C & K BBQ
 314-385-8100
 North County
 The Copper Pig
 314-499-7166
 South St. Louis
 Hendrick's BBQ
 636-724-8600
 St. Charles
 Iron Barley
 636-671-9911
 Jefferson County
 Kenrick's
 314-631-2440
 South County
 Pappy's Smokehouse
 314-535-4340
 Midtown
 Phil's BBQ
 314-631-7725
 South County
 PM BBQ
 636-536-1966
 West Couny
 Salt & Smoke
 314-727-0200
 U City
 Seamus McDaniel's
 314-645-6337
 Dogtown
 Shaved Duck
 314-776-1407
 Tower Grove
 Southtown Pub
 314-832-9009
 South Kingshighway
 Spare No Rib
 314-202-8244
 Soulard
 Sugarfire Smokehouse

Super Smokers BBQ

 Multiple Locations

636-938-9742

 Multiple Locations

Eureka
While the sauces served with the dishes may vary in different states, the type of food served is the same. Meat, poultry and fish are the types of food most commonly used in barbecue restaurants, popular dishes served at restaurants include everything from grilled lobster to grilled corn. Typical items that can be found on a St Louis Barbecue restaurant menu include grilled steaks, grilled hotdogs, and burgers, gourmet sausages, marinated skirt, steak, teriyaki chicken strips, Korean BBQ, beef spareribs, pork tenderloin and lamb chops.
BBQ restaurants in Memphis like to use tomato and vinegar-based sauces while Alabama, Georgia, and Tennessee usually serve their pork dishes with a sweet, tomato-based sauce. In Kansas, restaurants like to experiment with different types of meat for their dishes. Kentucky is the one state that is set apart in terms of food that is served. BBQ restaurants in Kentucky like to serve mutton. At present, Lexington, Kentucky is known as 'The Barbecue Capital of the World'.
And while grilled poultry, seafood and meat are delicious types of food, BBQ restaurants also serve grilled vegetable dishes on the side like grilled vegetable platters, bacon-wrapped asparagus, Greek-style squash, grilled corn with chive butter, grilled garden veggies, grilled portobellos with mozzarella salad, potatoes plus, grilled corn dip, grilled vegetable sandwich, and grilled vegetable medley. Grilled fruits are also sometimes served for dessert such as grilled pineapple, cinnamon apples, grilled pears, grilled brown sugar bananas, honey basted nectarines, rum and pineapple kebabs, and stuffed peaches on the grill.
BBQ Resources, Supplies, Recipes & Information
TheSmokeRing.com is a site that features all you need to know about barbeque including recipes for lamb, ribs, and even how to make your own BBQ Pit! Visit the site
BBQSmokersSite.com considers itself the best barbeque resource on the web with tons of valuable BBQ information and recipes.
Visit the site