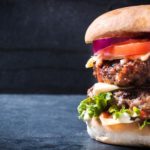 Where to go for burgers in St. Louis? While the bun is an essential component of the perfect hamburger, the truth is that a great hamburger is as only as good as its patty. Choosing the right type of meat that will stay moist even after the grilling process is crucial. That said; don't choose meat that is overly lean such as ground sirloin. Instead, go for meat that is at least 85% lean ground beef. These provide moisture and the juiciness that everyone loves for your patty without shrinking too much. Fortunately in STL, there is no shortage of great burger joints around.
St. Louis Hamburgers – Burgers
St. Louis Burger Restaurants
 Phone
 Attributes
 Location
 400 Olive
 314-554-7098
 American, Eclectic
 Downtown
 5 Star Burgers
 314-720-4350
 Burgers
 Clayton
 Annie Gunn's
 636-532-7684
 American
 West County
 Chee Burger Chee Burger
 314-821-9900
 Burgers
 West County
 Creve Coeur Lakehouse
 314-576-7200
 American
 West County
 Doc's Smokehouse

Fast Eddie's

 618-656-6060

618-462-5532

 BBQ, Burgers

American, Bar

 Edwardsville, IL

Alton, IL

 HI-Pointe Drive In
 314-349-2720
 American
 Dogtown
 Iron Barley
 636-671-9911
 American
 Jefferson County
 Kirkwood Station Brewing
 314-966-2739

314-899-9898

 American

American, Balkan

 Kirkwood

South City

 Mac's Local Eats
 314-479-8155
 American, Burgers, Brewing
 Dogtown
 Pat Connolly Tavern
 314-647-7287
 Irish
 Dogtown
 The Royale
 314-772-3600
 American
 South City
 RT. Weiler's
 636-947-1593
 American, Burgers
 St. Charles
 Seamus McDaniels
 314-645-6337
 Irish
 Dogtown
 Stacked
 314-544-4900
 American, Burgers
 South City
 Sugarfire Smokehouse
 Multiple Locations
 American, BBQ, Burgers
 Multiple Locations
 Tucker's Place
 Multiple Locations
 American, Steaks, Burgers
 Multiple Locations
You also need to be careful about what you put in the patty. Adding in pieces or slices of food that are too large can cause it to fall apart. With that in mind, be sure to finely chop vegetables such as onion and garlic. Try not to work with the patty more than is necessary to help it maintain stability.
If you need to work with a type of meat that tends to fall apart easily such as ground turkey, you can remedy this by incorporating dry breadcrumbs with the meat. The breadcrumbs serve the purpose of soaking up the excess moisture. Keep in mind if you are fond of adding condiments like steak sauce or applesauce to your patties.
Check out these sites dedicated to hamburgers:

Hoosier Burger Boy                The Message is Medium Rare
Burgers St. Louis
Another way to create a great hamburger would be to mix different types of meats. For instance, you can combine 3 parts beef with 1 part sausage. Alternatively, you can also try injecting a lamb flavour into your patty by mixing beef and lamb. Just keep in mind that mixing meats requires you to handle the meat for a longer period of time which may cause it to soften. That said try to be gentle as possible while working with the patties. Keep a light touch.
Now that you have the perfect patty, your hamburger won't be so great if the meat is burned. With that in mind, be sure to get your grill as hot as possible. Remember that from the moment the raw meat lands on the grill, it will stick. Furthermore, do not attempt to flip the burger until it releases lest you risk it falling apart. The burger will begin to release as the raw parts start to get cooked. There should be no pink left. Burgers take approximately one minute on each side to cook assuming that the grill is as hot as it goes.
For the buns, choose fresh and hearty rolls that won't cave beneath a world of toppings plus the patty. You can add flavour by brushing butter and toasting them before serving. Toppings run the gamut from cheese to tomatoes to lettuce to onions. It all depends on the taste of the person who will be eating the burger. Ketchup, salsa and tangy barbecue are all classic and tasteful options to make available as condiments.
Search other types of food in St. Louis
Hot Dogs in St. Louis         Steaks in St. Louis            BBQ in St. Louis