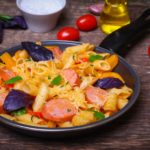 What exactly is Cajun cuisine? Cajun is the term that is used to describe food that originates from French-speaking immigrants based in Louisiana. It is one of the most unique cuisines in the world. Cajun food is often described as rustic. This is because the ingredients used in Cajun recipes are local and organic.
Cajun food is also a breeze to prepare and for this reason, it has quickly become a favorite among many people. The meals are often three-fold. Fore example, One pot contains the main dish; the second contains steamed rice and sausages or seafood, while the third dish typically contains vegetables or anything else that is readily available. Cajun cuisine also makes generous use of ground cayenne and black pepper. In additon, Cajun dishes contain bell pepper, celery and onion.
Cajun Food St. Louis
BB's Jazz Blues & Soups 314-436-5222 Downtown
Bones French Quarter 314-391-8291 West County
Boogalo 314-645-4803 Maplewood
Broadway Oyster Bar 314-621-8811 Downtown
Celebrity Restaurant 314-521-0310 North County
Evangeline's 314-367-3644 Central West End
Gulf Shores Multiple Creve Coeur
Hardshell Cafe 314-231-1869 Soulard
Juniper 314-329-7696 Central West End
Lotawata 618-628-7373 Fairview Heights
Molly's 314-241-6200 Soulard
Sister Cities Cajun 314-405-0447 Benton Park
Who Dat's 618-855-9779 Metro East
Boudin is one of the most popular dishes served in Cajun restaurants in St. Louis. Boudin is a kind of sausage that is made of green onions, pork, garlic, rice and pork liver. Because of this, it is typically cooked on a daily basis as it does not keep for long periods of time. In Cajun restaurants, boudin is usually served alongside bread or rice dressing. Boudin balls are also popular especially in restaurants in Southern Louisiana
Another favourite dish among St. Louis food lovers of Cajun/creole cuisine is gumbo. Gumbo is a type of soup that contains a gauntlet of food items. The heavy influence of African and Native American cultures on Cajun cuisine becomes evident with this signature Cajun dish. Sassafras leaves are used for the thickening of this stew. A classic gumbo recipe usually contains chicken and andouille (a Cajun sausage) but ingredients can vary depending on what is available at the moment.
Cajun Restaurant St. Louis
Jambalaya is a food item that is almost always present in Cajun restaurants. It bears similarities to paella but does not contain any saffron and it usually contains chicken, beef, shrimp or crawfish. Hot chilli peppers, green peppers, celery and onion are also found in most jambalaya recipes.
Other popular Cajun dishes at St. Louis Restaurants include potato salad, poutine, gumbo des herbes, Cajun rice, couche couche, crepe, boiled crawfish, brochette, maque choux, seafood-stuffed mirliton, tasso, tarte a la bouillie, catfish court-bouillion, pecan pralines, crawfish etouffee, crawfish bisque, fried frog legs, hog's head cheese, rice and gravy, cochon de lait, etoufee, dirty rice, and crawfish pie.
Popular desserts in St. Louis served at include bananas foster bread pudding, white chocolate mousse, berries artesia, whiskey balls, cherries jubilee, sweet potato pone, creole bread pudding with whiskey, strawberry shortcake, bread pudding soufflé, spumone, candied yam and white chocolate ice cream, semolina soufflé cake, chocolates crepes with fresh strawberries, pecan pie, chocolate doberge cake, fig and pecan pie, king cake, key lime pie, and gateau de sirop.