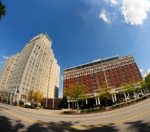 The Central West End is eclectic area of St. Louis located in the city's central corridor just North and East of Forest Park.  In addition to a diverse selection of local STL restaurants and dining options, the Central West End or, the CWE, also features a number of select shops and art galleries.  It is a popular area for both dinner and lunch as it is located close to the Highway and so well as some of St. Louis' largest employers such as Barnes. Whether you're just visiting, trying to decide whether or not you want to stay there, or even moving, there are plenty of things to do in Central West End St. Louis.
Central West End Restaurants 

Pickleman's uses the highest quality product with fresh produce to create profound and unique flavor profiles people love. Offering a wide variety of Toasted Sandwiches, Pizzas, Soups, Salads and Desserts.  Ask us about Catering!
Famous for its many bars and restaurants, and the nightlife the closes down at 1PM, the Central West End is a tiny slice of the West Coast right in St. Louis, but what besides shopping is there to do in the neighborhood?
CWE Restaurants
There is plenty to see and do in Central West End but there are also a few things to keep in mind. For example, parking tends to be poor, especially in the summer. However, with a very central metro station, it's easy to park at Grand Station, Forest Park Station, or Central Loop Station and then take the metro to Central West End.
Forest Park: Forest Park is just a short walk from Central West End and is great no matter what the time of the year. The Park is known as the 'Heart of Saint Louis' and was originally opened in 1876, and includes 1,371 acres of land with plenty of wildlife to see on your trip. Key areas include a golf park, the World Fair Pavilion and plenty of the area's biggest attractions.
St. Louis Zoo: The St. Louis Zoo is actually located within the confines of the Forest Park, but is definitely worth a look. The Zoo has been open since 1920 and has more than 18,000 animals on display. However, it also attracts some 2.9 million visitors a year, so expect it to be busy.
St Louis & Washington Universities
For those looking for landmarks, the St. Louis University and Washington University are some of the most prestigious universities in the area, and within walking distance of the Central West End. The Washington University houses some 14,000 students and teaches a range of academics including medicine. The St. Louis University is one of the most prestigious in the nation, and definitely worth a look.
Restaurants Central West End
The Chase Park Plaza: For those who love grandeur, the Chase Park Plaza is one of the best upscale hotels and landmarks in the region. The Chase Park Plaza was originally built in 1922 and offers a full range of amenities including a theatre, five star dining, and luxury rooms.
Missouri History Museum: For those who like history, the Missouri History Museum in Forest Park is a must see. Founded in 1866, the museum now houses the history of St. Louis, and of Missouri. Admission is free, and guided tours for groups of ten or smaller are available. More Info
St. Louis Science Center: The St. Louis Science Center is most well known for the McDonnel Planetarium which is home to a show that features more than 9,000 stars! The Science Center is also home to many other great exhibits, and a great place to take kids. More info
St. Louis Art Museum: The Art Museum was originally created as part of the Louisiana Purchase Exposition and now holds a comprehensive art collection including Oceanic, Pre-Columbian, 20th Century German art, and even a collection of Ancient Chinese Bronzes.