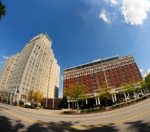 The Central West End is eclectic area of St. Louis located in the city's central corridor just North and East of Forest Park. In addition to a diverse selection of local STL restaurants and dining options, the Central West End or, the CWE, also features a number of select shops and art galleries. It is a popular area for both dinner and lunch as it is located close to the Highway and so well as some of St. Louis' largest employers such as Barnes. Whether you're just visiting, trying to decide whether or not you want to stay there, or even moving, there are plenty of things to do in Central West End St. Louis.
Central West End Restaurants

Pickleman's uses the highest quality product with fresh produce to create profound and unique flavor profiles people love. Offering a wide variety of Toasted Sandwiches, Pizzas, Soups, Salads and Desserts.
---
There is plenty to see and do in Central West End but there are also a few things to keep in mind. For example, parking tends to be poor, especially in the summer. However, with a very central metro station, it's easy to park at Grand Station, Forest Park Station, or Central U City Loop Station and then take the metro to Central West End.
Forest Park: Forest Park is just a short walk from Central West End and is great no matter what the time of the year. The Park is known as the 'Heart of Saint Louis' and was originally opened in 1876, and includes 1,371 acres of land with plenty of wildlife to see on your trip. Key areas include a golf cours, the World Fair Pavilion and plenty of the area's biggest attractions.
Famous for its many bars and restaurants, and the nightlife the closes down at 1PM, the Central West End is a tiny slice of the West Coast right in St. Louis, but what besides shopping is there to do in the neighborhood?
CWE Restaurants
Baiku Sushi Lounge 314-896-2500 Sushi
Bait 314-405-2797 Seafood
Bar Italia 314-361-7010 Italian
Bar Louie 314-678-3385 Bar
Brassiere 314-454-0600 French
Brennan's 314-497-4449 American
Cafe Osage 314-454-6868 Brunch
Culpepper's 314-361-2828 American
Dressel's Pub 314-361-1060 British
Drunken Fish 314-367-4222 Japanese
India Rasoi 314-361-6911 Indian
Juniper 314-329-7696 Southern
Kampai 314-367-2020 Japanese
Mary Ann's Tea Room 314-361-5303 Tea Room
Midtown Sushi 314-328-2452 Japanese
Pickle's Deli 314-361-3354 Deli
The Preston 314-633-7800 American
Retreat Gastro Pub 314-261-4497 American
Scottish Arms 314-535-0551 Scottish
Sub Zero 314-367-1200 Sushi
Sushi Koi 314-367-2209 Sushi
Tom's Bar and Grill 314-367-4900 American
Vicia 314-553-9229 American
West End Grill 314-553-9239 American
West End Wok 314-531-4607 Chinese
Wild Flower 314-367-9888 American
Restaurants Central West End
The Chase Park Plaza: For those who love grandeur, the Chase Park Plaza is one of the best upscale hotels and landmarks in the region. The Chase Park Plaza was originally built in 1922 and offers a full range of amenities including a theatre, five star dining, and luxury rooms. The several well regarded St. Louis restaurants located within or nearby The Chase.
Missouri History Museum: For those who like history, the Missouri History Museum in Forest Park is a must see. Founded in 1866, the museum now houses the history of St. Louis, and of Missouri. Admission is free, and guided tours for groups of ten or smaller are available. More Info