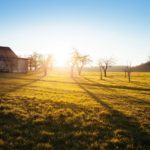 Located just south of South St. Louis County, Jefferson County has experienced a lot of growth and rapid development. It has a number of different school districts as well as parks and recreational centers. The area is quiet scenic, with all the amenities of STL, but just with more trees and a little further south. Like other areas in St. Louis, Jefferson County is fortunate to have some wonderful local restaurants. Jefferson County, Missouri is situated south of Metro St. Louis and affords visitors a host of attractions including historical to natural.
Jefferson County Food and Restaurants
Sugarfire Smokehouse   Brain child of well known chef Mike Johnson and Carolyn Downs of Cyrano's.Our brisket and Memphis style ribs are delicious, as well as our grass-fed burgers, fries, and shakes. Come in and see for yourself!
Iron Barley   Iron Barley has been popular for years and specializes in smoked meats and craft beers. Come visit us in our new location in High Ridge.
The history of Jefferson Country can be traced back to the culture of the Clovis people and the mega mammals found during a visit to Mastodon State Historic Park. If you are more interested in recent culture, you can visit the Washington State Park with their interesting Civilian Conservation structures built in the 1930s. Nature lovers will enjoy venturing to Sandy Creek Bridge State Historic Site, the home of one of four covered bridges still standing in the state of Missouri. There are also a few conservation areas along the way.
Food – Restaurants Jefferson County
Visit the Historic Sites: There are several other historic sites worth mentioning. The Anheuser Estate is a 23 acre antebellum estate that was the residence of Fred and Mabel Ruth Anheuser. When the couple died, the house was left along with the entire Anheuser collection including a family library, family heirlooms, and antiques to Kimmswick. A tour through the home takes you back to another time in history and definitely worth the trip. The Kimmswick Historical Society Museum is located in the restored Kimmswick Bible Church. The museum has a fantastic display of memorabilia which follows the town's development with maps, artifacts, and pictures. Sandy Creek Bridge State Historic Site features over 205 acres of natural areas and one of only four covered bridges still standing in the State of Missouri.
Other Restaurants in Jefferson County
Bastard Brothers Brewing   314-520-3401   High Bridge
Blue Owl Restaurant      636-464-3128   American
Fuji Sushi  636-464-8880   Sushi
Local House 636-467-9900  American
Miyabi   Japanese
Petit Paree  636-937-8400  French
Taytro's   636-931-1880  Eclectic
Trattoria Giuseppe   636-942-2405   Italian
Fun Things to do in Jefferson County, Missouri
Visit the Dinosaurs and Other Ancient Sites: The Mastodon State Historic Site is a huge 425 acre site preserving the Kimmswick Bone Bed. Numerous skeletal parts have been found at this site of the mega mammals that used to inhabit this area. The park also has the oldest Native American Indian site you can visit in the State of Missouri. There are trails where you can explore on your own where the dinosaurs and the Indians used to inhabit. If dinosaurs aren't your thing, then explore Washington State Park, which is home to prehistoric rock carvings made by the native Indian tribes over 1,000 years ago. The park is over 1,875 acres and offers all types of activities including camping, fishing, swimming, hiking trails, canoeing, historical programs, and rental cabins if you would like to stay overnight. The park also boasts many stone structures built during the Depression of the 1930s and the beauty of the Ozarks.
Jefferson County Dining
Metropolitan St. Louis is right around the corner from all of these historic sites and offers visitors attractions such as the Gateway Arch and such attractions as the St. Louis Carousel, the Zoo, The Science Center, the History Museum, the Art Museum, the Sophia M. Sachs Butterfly House, and the Museum of Westward Expansion. If you are an outdoor enthusiast, metropolitan St. Louis also has an abundance of green spaces to enjoy hiking, bicycling, or just hanging out having a picnic. When visiting, don't forget about the historical district for shopping or a bite to eat at one of the best St. Louis restaurants.

Visit STLSchools.com to find Jefferson County Schools