Mexican food is known to be very rich in variety, flavour and colour. Mexican food is a combination of indigenous cultures as well as European cuisine elements that introduced themselves in the 1700's. Mexican cuisine would not be considered so without the presence of corn, rice and beans in its dishes. Mexican food generously makes use of tamales, tortillas, squash and chilli peppers.  All of these delicious treats can be found at the these STL restaurants offering Mexican dining and cuisine.
 Mexican Food St. Louis
3 Margarita's                          314-326-4006         Fenton
Amigo's Cantina                     314-821-0877        South County
Amigo Joe's                             314-645-1995         The Hill
Azteca Mexican Grill            636-326-4949        Fenton
Cantina Loredo                      314-725-2447        Clayton
Casa Juarez                             314-317-9404        Maryland Heights
Catrina's                                  618-692-5522        Edwardsville
Charro                                     314-256-7071        West County
Chavas Mexican                    314-241-5503        Soulard
Club Taco                                314-858-1488        Kirkwood
Espino's                                   636-519-0044        Ellisville
Fort Taco                                 314-647-2391        Brentwood
Fuzzy's Taco Shop                 314-968-TACO       Crestwood
Las Fuentes                            314-846-2041         South County
La Vallesana                           314-776-4223        Cherokee Street
Lily's Mexican                       314-352-1894         South Kingshighway
Mi Ranchito                           314-863-1880         University City
Mission Taco                         314-858-8226         Soulard
Nachomama's                       314-961-9110         Central County
Nixta                                       314-889-9000         Tower Grove
Pueblo Solis                           314-351-9000         St. Louis Hills
Ramon's El Dorado               314-344-4465        Collinsville
Rosalita's Cantina                314-621-2700        Downtown
Ruiz                                         314-838-3500         Florissant
Seoul Taco                             314-863-1148           U City
Taco Buddha                        314-502-9951          U City
Taco Circus                            314-808-2050          South City
Taqueria El Torito               314-771-8648         Cherokee
Tower Tacos                          314-762-0691         Cherokee
Yo Salsa                                  636-856-8444          Wentzville
When it comes to herbs and spices, chiles, cocoa, oregano, cinnamon, epazote and cilantro are some of the most frequently used in Mexican cuisine. Garlic, onions and honey are also rarely absent in many popular Mexican dishes. While to some extent, North America has been successful in authentically replicating many Mexican dishes, there are still some discrepancies that remain. For instance, hard-shelled tacos are more commonly seen in Mexican restaurants in St. Louis. In Mexico, tortillas or soft tacos are the traditional choice.
Mexican Restaurant St. Louis
While there is no shortage of Mexican St. Louis restaurants, the four states that border Mexico (California, Texas, Arizona and New Mexico) along with other southwest states including Utah, Nevada and Colorado, have produced the largest number of Mexican restaurants. This can also be attributed to the large Mexican population that can be found within these said states.
Popular Dishes Found at St. Louis Mexican Restaurants
When it comes to appetizers, some of the most popular Mexican dishes include yellow rice, toasted grasshoppers seasoned with salt and lime, rice with lemon, Spanish rice, green rice, tortillas, meatball soup, salty bread, lentil beans, squash, meat or tomato flavoured pasta, noodles, guacamole, salsa, refried beans, Mexican sweet potato, black beans, broth, pinto beans, fruit salad, and noodles.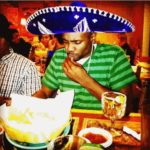 For main courses, some popular Mexican dishes include Mexican meatballs, arroz con pollo, burritos, chicharron, chicken soup, beef soup, tacos, taquitos, cheese soup, empanadas, tortas, shrimp soup, dried shrimp soup, ancas de rana al mojo de ajo, longaniza, menudo, meat and bean broth, seafood soup, tamales, chicken and vegetable soup, fritadas de camaron, chorizo, arroz con camarones, enchiladas, venison, nachos, picadillo, quesadillas, seafood cocktails, bistec a la Mexicana, chilpachole de jaiba, flautas, lengua, camrones al mojo de ajo, sandwiches, tortilla soup, octopus, stewed beef in spiced gravy, and grilled beef.
Mexico is also popular for producing some of the world's yummiest deserts; including but not limited to rice with milk and sugar, coyotas, rosca de reyes, cajeta, dulce de leche, ice cream, pepitorias, empanadas, pan de muerto, champurrado, flan, tacuarines, pan dulce, Acambaro bread, pastel de tres leches, churros, popsicles, glorias, Carlota de limon, coricos, jamoncillos, pastel de queso, capirotada, platano, chongos zamoranos, biscochos, polvoron, cheesecake, obleas, and alegrias.
Coffee with cinnamon, hot chocolate, Mexican beer, soft drinks, pulque and tube are very popular drinks often served in St. Louis Mexican restaurants. Tequila is also a favourite in Mexican cuisine.