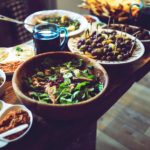 If you like shaorma, hummus, pitas, and falafel, then you are already familiar with some Middle Eastern dishes. However, the cuisine varies widely depending on where you go and you can get many dishes that are on par with Western cuisine for flavor, cooking technique, and serving method, that you would never find in a popular fast food style restaurant. These popular dishes you can purchase in many Middle Eastern restaurants will allow you to move beyond the basics, and try some of the best foods the Middle East has to offer.
Baba Ghanoush: Hummus may be the most famous Middle Eastern dip, but Baba Ghanoush is another popular starter. The dish is made with roasted eggplant blended with tomato, onion, olive oil, garlic, tahini, and lemon. It's traditionally served with toasted pita and other flatbreads, and makes a great starter in any Middle Eastern restaurant that offers it.
Middle Eastern Food St. Louis
Manakeesh: Whether you're in a fancy Middle Eastern restaurant or a street shop, Manakeesh is something that will likely be on the menu. Manakeesh is commonly referred to as Arabic pizza, but the flatbread is prepared and served in an entirely different manner. It's also traditionally eaten for breakfast or lunch, and almost never for dinner. The most popular variation features za'atar topping with crushed sesame seeds, sumac, and herbs.
Middle Eastern Restaurant St. Louis
Mansaf : A Jordanian lamb dish, Mansaf is every bit as delicious as the ever-popular shaorma or kebab, and served in a similar way. The dish looks like a pizza with a large amount of lamb, rice, and almonds or pine nuts. In reality, Mansaf is a flatbread known as markook or shrak, with a layer of rice, lamb cooked in fermented and dried yogurt, and topped with a yogurt sauce and pine nuts or almonds. While famously known as Jordan's national dish, it is actually a newer invention, and considerably different from traditional Mansaf. It's also traditionally eaten with the right hand, and shared with friends, rather than eaten alone.
Tabouleh: Tabouleh is a Levantine dish popular throughout the Middle East, and served in a variety of ways depending on the ethnicity of the restaurant. The traditional dish is a vegetarian salad with tomatoes, bulgur, mint, parsley, chopped onions, olive oil, salt, and lemon. Variations may add garlic, couscous instead of bulgur, or romaine lettuce.
Masgouf: If you're a fan of fish then Masgouf is a must-try Middle Eastern dish, primarily found in Iraqi restaurants. Masgouf is traditionally made with carp, and is typically brushed with a marinade of olive oil, rock salt, tamarind, and ground turmeric, and then grilled for up to three hours. Traditionally the dish is cooked over an open fire with apricot logs, but you will typically find it baked in a clay oven at St Louis restaurants. You can also order Masgouf Bagdad style, with mango chutney.
The Middle East has a lot to offer in terms of culture and cuisine, so, whether you're traveling there or visiting on of the best restaurants in St Louis, remember to try as much as possible. Because every restaurant has their own specialty and favorite, you might get a vastly different menu, even in restaurants that serve food from the same country.